Beaker & Gray's Cheeseburger Croquettes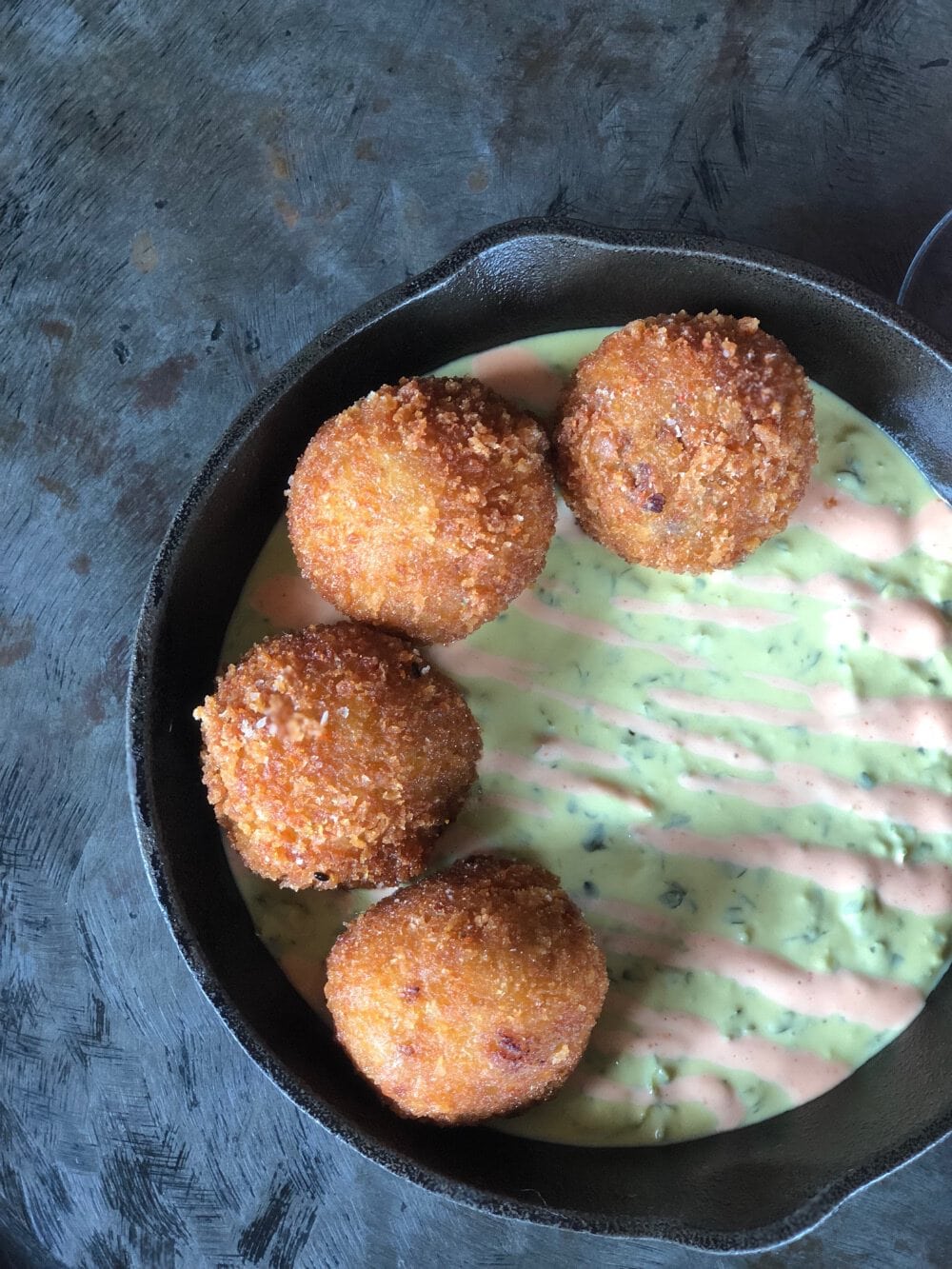 Beaker & Gray's Cheeseburger Croquettes
Beaker & Gray owners and Miami natives Brian Nasajon (executive chef) and Ben Potts (bar manager) were childhood friends, so it's not surprising that one of the pair's favorite dishes seeks to elicit feelings of nostalgia. "Our cheeseburger croquettes combine the best parts of a croqueta and a cheeseburger together," says Nasajon. "We tried to turn our Miami childhood dreams into the perfect bite!" 2637 N. Miami Ave., Miami; 305.699.2637; beakerandgray.com
GIVING BACK: In light of the global pandemic, the team at Beaker & Gray, along with chefs Brad Kilgore, Michael Schwartz and many others, came together to create the Miami Restaurant Employee Relief Fund to support workers from South Florida's hospitality industry who were directly impacted by COVID-19. For more information or to donate, visit gofundme.com/f/miamirestaurantemployeerelieffund.
RECIPE
For the Bacon Vinaigrette:
Yields: ½ quart
383 grams bacon
3 grams salt
24 grams sugar
150 grams chile vinaigrette 
Slice bacon into ¼-inch batons. Place in a cold rondeau and cook over low heat until fully rendered. Add sugar and salt. Stir for 1 minute. Add chile vinaigrette. Reduce by 50 percent. Let cool.
For the Huancaina:
Yields: ½ quart
75 grams shallot
28 grams garlic
9 grams salt
79 grams sake
53 grams ají amarillo
560 grams heavy cream
47 grams Parmesan cheese
Roughly chop shallot and garlic. Sauté over medium heat in a large rondeau. Once medium-roasted, add ají amarillo and salt. Cook for 5 minutes, stirring frequently. Add sake. Let reduce by 75 percent. Add heavy cream. Let reduce until bubbles are heavy. Add Parmesan. Blend immediately.
For the Potato Purée:
513 grams Yukon potatoes
43 grams lard
99 grams heavy cream
27 grams confit garlic
10 grams butter
8 grams salt
Bring potatoes to boil. Cook until tender and rice with a food mill. Weigh potatoes once riced and leave aside. Bring the rest of the ingredients to a boil and blend. Combine all ingredients.
For the Cheeseburger Croquette Mix:
1 pound ground wagyu beef
0.8 cup bacon vinaigrette (see above)
0.8 cup huancaina (see above)
0.8 cup Swiss cheese
7 grams salt
½ pound potato purée (see above)
In a large rondeau, sear ground beef over high heat, breaking it up as it cooks. Add salt, bacon vinaigrette and huancaina. Cook for 20 minutes, stirring frequently. Add Swiss cheese. Remove from the pan and mix with potato purée.
Method:
Set up a breading station to include 3 small pans of each flour, egg wash (crack eggs and whisk to form egg wash) and panko breadcrumbs. After the cheeseburger croquette mix has completely cooled, scoop about 3 tbsp (or a small ice cream scoop) and roll into a ball with hands. Dip balls into flour, shake excess, and then dip into egg wash. Remove from egg wash and dip into panko breadcrumbs. When all scoops are evenly coated, fry until golden brown.