Avalon Steak & Seafood's Angry Lobster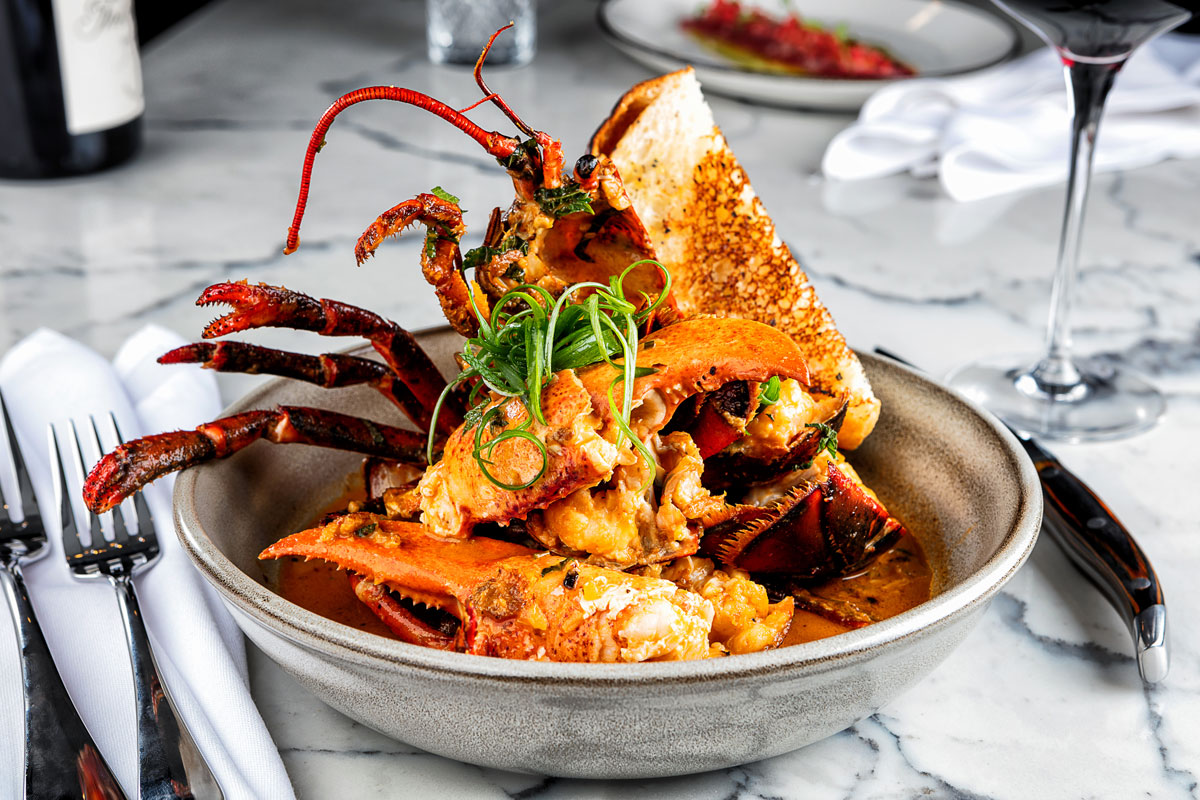 Angry Lobster at Avalon
This posh steakhouse's menu offers diners a savory selection of meats and seafood, and now you can recreate its signature dish at home. The secret to the Angry Lobster has to be its decadent sauce.
Ingredients:
2 whole 1 ¼ whole lobsters
2 tbsp. canola oil
1 tbsp. diced onion
1 tbsp. ginger
1 cup lobster stock (per Chef Greg Rubin: "For the home cook, Better Than Bouillon works great.")
2 tbsp. Sriracha
3 tbsp. unsalted butter
1 tbsp. light soy sauce
1 lime
Kosher salt
Freshly ground pepper
1 tbsp. mint
2 slices sourdough bread
Scallions, sliced
Method:
Boil lobsters for 8 minutes in boiling water. Take out and transfer to an ice bath.
Remove claws and knuckles, deshell the meat and set aside. Split lobster in half down the middle, removing tail from the split body. Cut in half again to yield four pieces per tail. Set aside.
Heat the canola oil in a wok or large sauté pan until it's smoking (one pan per lobster). Add the lobster tails and split bodies and cook for 1 minute. Add the onion and ginger, then deglaze the pan with the lobster stock. Remove the lobster tails and bodies and arrange them on two plates.
Reduce the lobster stock by half, then add the Sriracha. Whisk in the butter, piece by piece. Add the soy sauce and a squeeze of lime juice. Add the lobster claw and knuckle meat, then finish with the sliced mint.
Spoon the sauce onto the plated lobster, adding two claws and two knuckles to each plate. Garnish the plate with a slice of toast and some chopped scallions.
110 E. Atlantic Ave., Delray Beach; 561.593.2500; avalondelray.com