Art Inspired Hotels From Around the World
Because of their curated on-property art collections, these hotels can double as art galleries—putting a whole new spin on a "night at the museum."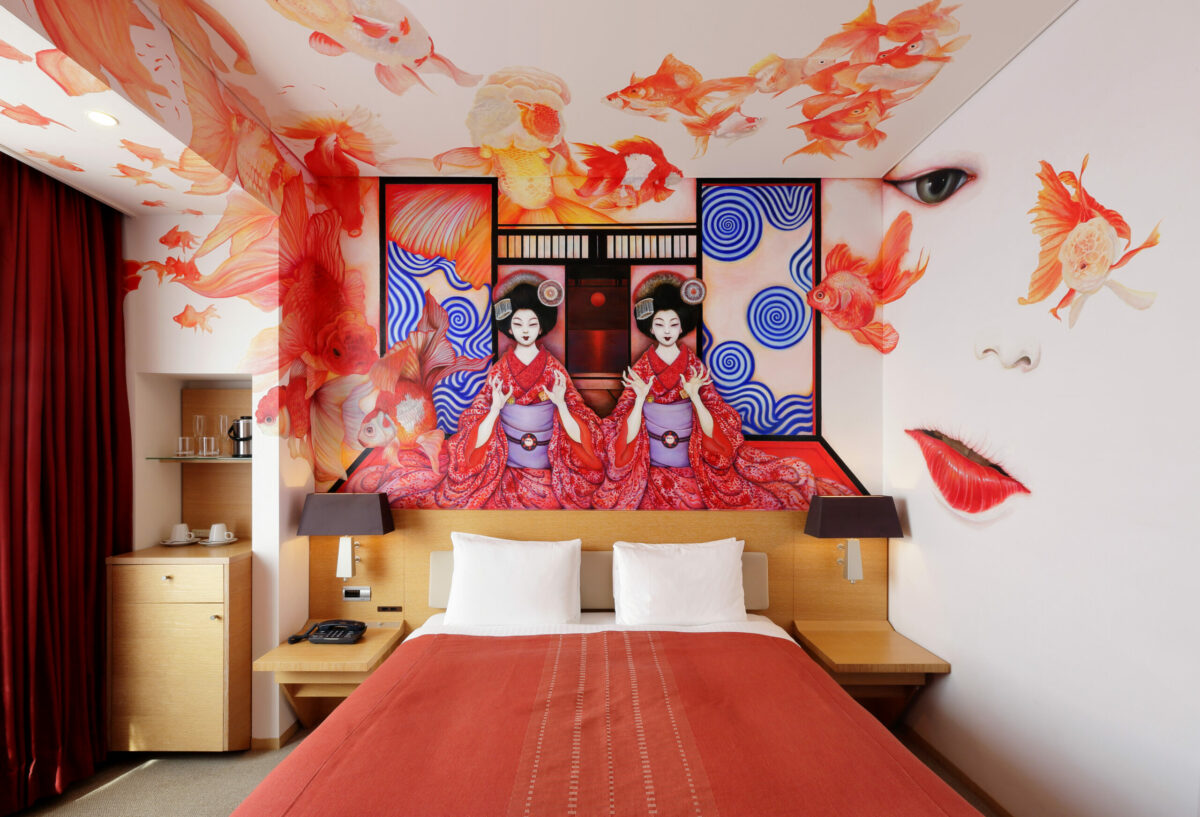 An artist room at the Park Hotel Tokyo
MIAMI BEACH, FL
The newly opened The Goodtime Hotel is a boutique hotel created by entrepreneur David Grutman and musician Pharrell Williams. The 266-room property delivers a re-imagined art deco atmosphere. Partnering with designer Ken Fulk, the Morris Adjmi firm and landscape architect Raymond Jungles, the hotel's style is right out of a Wes Anderson film. The space also features Tappan artists; explore works by Marleigh Culver, Ethan Caflisch, Annelie Vandendael and many more.
@thegoodtimehotel | thegoodtimehotel.com
LOUISVILLE, KY
Housed in a series of renovated 19th-century tobacco and bourbon warehouses, the 21c Museum Hotel Louisville (the flagship hotel for the brand) delivers a new kind of travel experience with a multi-venue contemporary art museum, thoughtfully designed guest rooms, and a first-class bar and restaurant. The lobby and event space consist of rotating exhibitions and permanent installations. But it doesn't end there, as art adorns the 91 guest rooms.
@21clouisville | 21cmuseumhotels.com/louisville
PALM SPRINGS, CA
Every portion of the Art Hotel is an Instagrammable moment—from the rainbow entrance and the flower power mural by artist Damon Johnson to the original 1961 pool re-designed in retro kitsch. Owned and curated by artist, designer and entrepreneur Tracy Turco and her real estate developer husband Jerry, the Art Hotel is a desert oasis that will transport you back in time to the heyday of Palm Springs.
@art.hotel_palmsprings | arthotelps.com
DOWNTOWN NEW YORK CITY, NY
The Big Apple is home to the Conrad New York Downtown hotel. Situated alongside the Hudson River, it houses more than 2,000 works of modern and contemporary art displayed throughout the hotel's public spaces. From bold site-specific commissions such as Sol LeWitt's extraordinary Loopy Doopy and specially commissioned lithographs in the guest suites by Mary Heilmann, Elizabeth Peyton and Sara Sosnowy, to mixed media art by famed artist Lynda Benglis, at the Conrad, you can cozy up to art on a whole other level.
@conradnydowntown | conradnewyork.com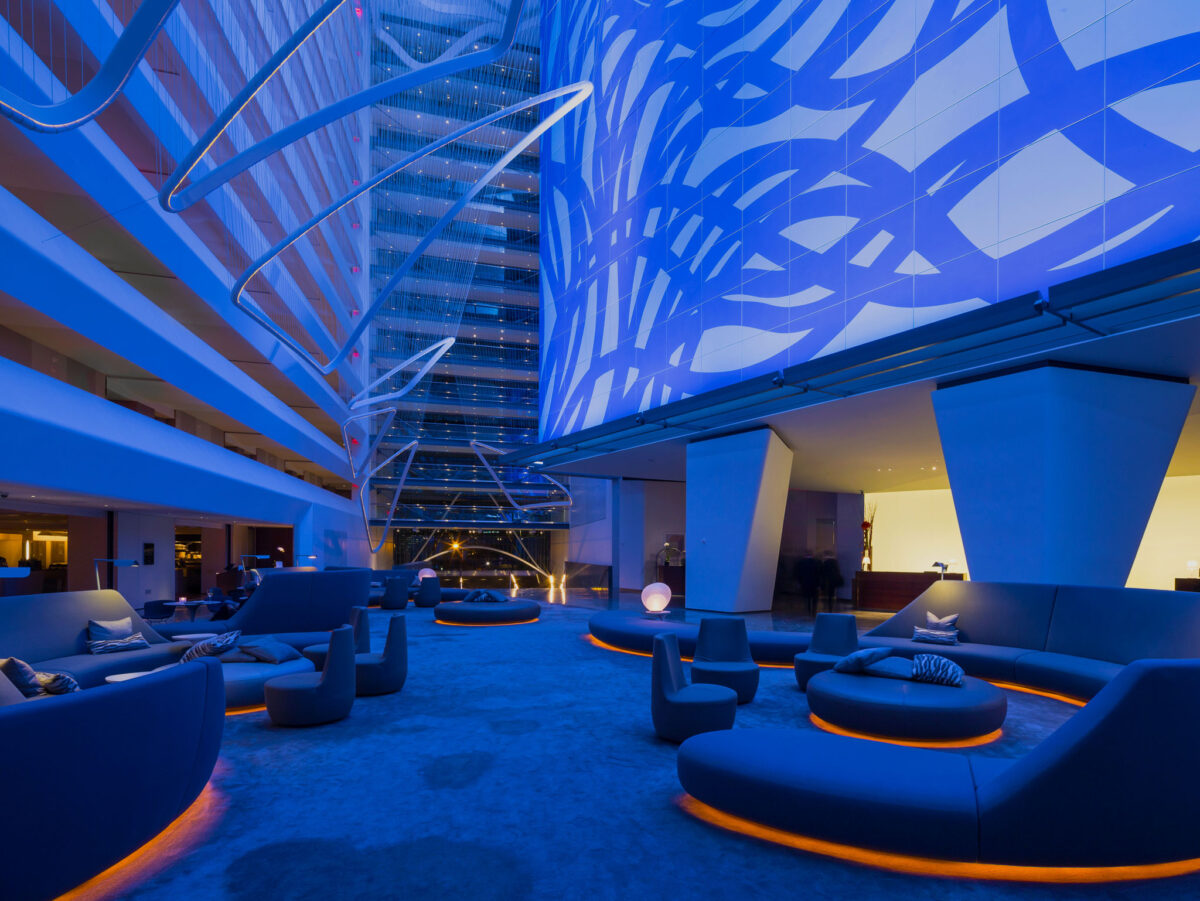 SANTE FE, NM
The La Fonda on the Plaza Hotel is one of Santa Fe's crown jewels. The hotel stays true to its New Mexican heritage with work from local and native artists, but there's more to the great hotel artwork than just the paintings on the walls. Every detail is carefully considered, from handmade glass tiles in the restaurant to the decorated wooden headboards, trunks and cabinets in the rooms.
@lafondasantafe | lafondasantafe.com
TOKYO, JAPAN
Surrounded by skyscrapers and starting from the 25th floor of the Shiodome Media Tower, the Park Hotel Tokyo has devoted a complete floor to art. In 2013, the hotel put forth a new concept, "infinite time and space amid cognizant Japanese beauty." In line with this, every room on the 31st floor is curated and painted by different Japanese artists. In total, out of the 270 guest rooms, there are  , with two rooms under creation. The project, in its second phase, will implement artist rooms on its 34th floor as well. Park Hotel Tokyo has created a set of themes known as ART (Atrium, Restaurant and Art) and incorporated art to allow guests to experience Japanese aesthetics in the context of each of these themes.
@parkhoteltokyo | parkhoteltokyo.com
RIVIERA MAYA, MEXICO
Secluded and nestled on the coastline of the Mexican Caribbean, this luxury, chic and stylish 214-room resort is divided into two sections: a lagoon side and a beach side. Guests can hop on a lagoon tour by boat, where visitors can spot numerous bird species and wildlife. World-renowned muralist Senoke is Andaz Mayakoba Resort Riviera Maya's artist in residence, and he takes inspiration from the sea, Mexican folklore, nature and even comics to create colorful murals that are displayed throughout the hotel's exterior. The murals depict birds, aquatic animals and the jaguar, which is sacred to the Mayan culture.
@andazmayakoba.mx | mayakoba.com
VENICE, ITALY
On a quiet canal in the Cannaregio district and within a   leisure walk to St. Mark's Square, you'll find this 16th-century renovated palazzo turned into a 10-room boutique hotel. Hotel Heureka is a place where enchanting historical architecture meets modern design and contemporary art in perfect harmony. Each room is unique, thanks to the choices of colors, fabrics and decor, as well as curated art. Artist Julian Khol was commissioned to create paintings exclusively for the hotel. Born in Vienna in 1979, Khol is known for his expressively abstract, large-scale images.
@hotelheureka | hotel-heureka.com
CERCAL, PORTUGAL
Set amidst a background of nature within the Southwest Alentejo and Vicentine Coast Natural Park, the Herdade da Matinha hotel is a 35-room boutique country house hotel. Each room is one-of-a-kind, elegantly decorated with unique art pieces, paintings, books and pictures. The property is bursting with colors, thanks to owner Alfredo Moreira da Silva's vivid paintings and red, pink and orange doors, chairs and decor. Truly a burst of colors and art to be enjoyed in the Portuguese countryside.
@herdadedamatinha | herdadedamatinha.com
TOKYO, JAPAN
Dating back more than half a century as one of Tokyo's most iconic hotels, the Palace Hotel Tokyo features 290 guest rooms, 10 distinctive restaurants and bars, and a luxury spa. The hotel is set in the heart of the business district, and located across from the Imperial Palace gardens. The property has over 1,000 pieces of commissioned artworks displayed in guest rooms and public spaces. The artists selected range from long-established to some of Japan's most promising artists, and the art runs the gamut of pencil sketches to traditional ink wash paintings to colorful abstract art. What you'll find is a 23-story celebration of contemporary Japanese design, art and architecture.
@palacehoteltokyo | palacehoteltokyo.com

For more information, make sure to visit the websites listed.
This story is from our Winter 2021-2022 issue. Read more here.