Curated by Tamara Lohan, Founder, Mr & Mrs Smith, mrandmrssmith.com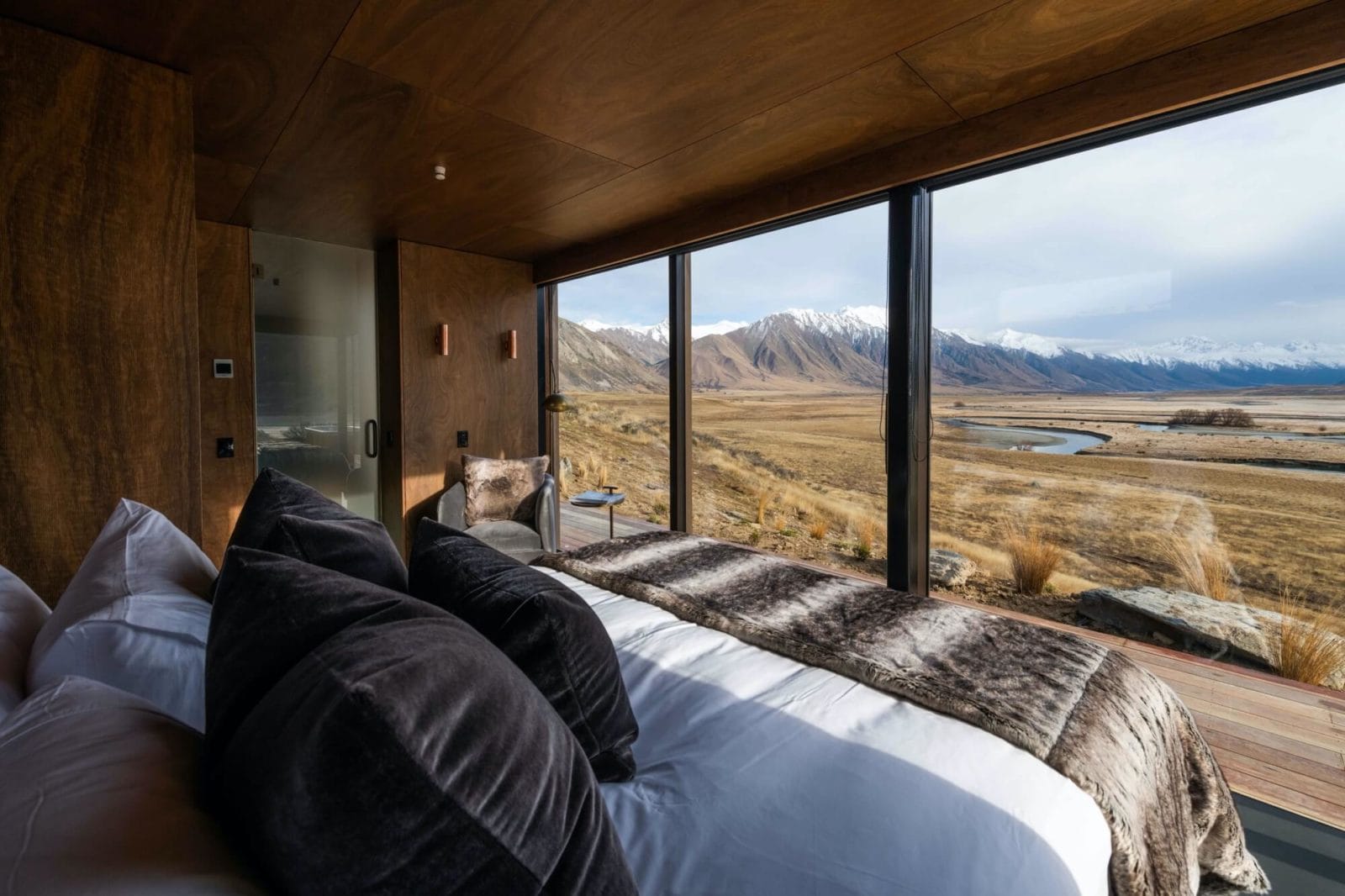 The Lindis - Photo by Shaun Jeffers Photography
At Mr & Mrs Smith, we adore a sink-into hotel bed with the highest thread count, but we don't believe that a hotel room is just somewhere to lay your head. We're drawn to the places that architects might stick on their inspo board: those with beatific backdrops and exquisite interiors right down to the designer hand soap—and where a private pool is the least of the luxuries on offer (retractable roof for stargazing, anyone?). Here, we've selected five luxury hideaways where laying your head becomes living the dream.
The Pods at The Lindis, New Zealand
Spying on nature is all the more seductive at The Lindis, an ultra-luxurious hideaway in New Zealand's Ahuriri Valley, where the main hotel's undulating roof and low-key coloring put it at ease amid the towering mountains and fertile wetlands. Things get even more voyeuristic in the "Pods," unobtrusive yet stylish lodges set apart from the main hotel. Three mirrored-glass window walls let you see all the goings-on in the valley, be it the peaks turning from stony-faced to snow-topped, the sinuous Ahuriri River flowing along or a rare kākāriki fluttering by. Or, you can be one with the wild by watching it unfold from your alfresco hot tub. Activities favor get-up-and-go-go-go sorts—exploring ice caves, swooping over glaciers in a helicopter, biking beside Lake Oahu and the like—so you'll be thankful to return to your snug indoor great-outdoors nest.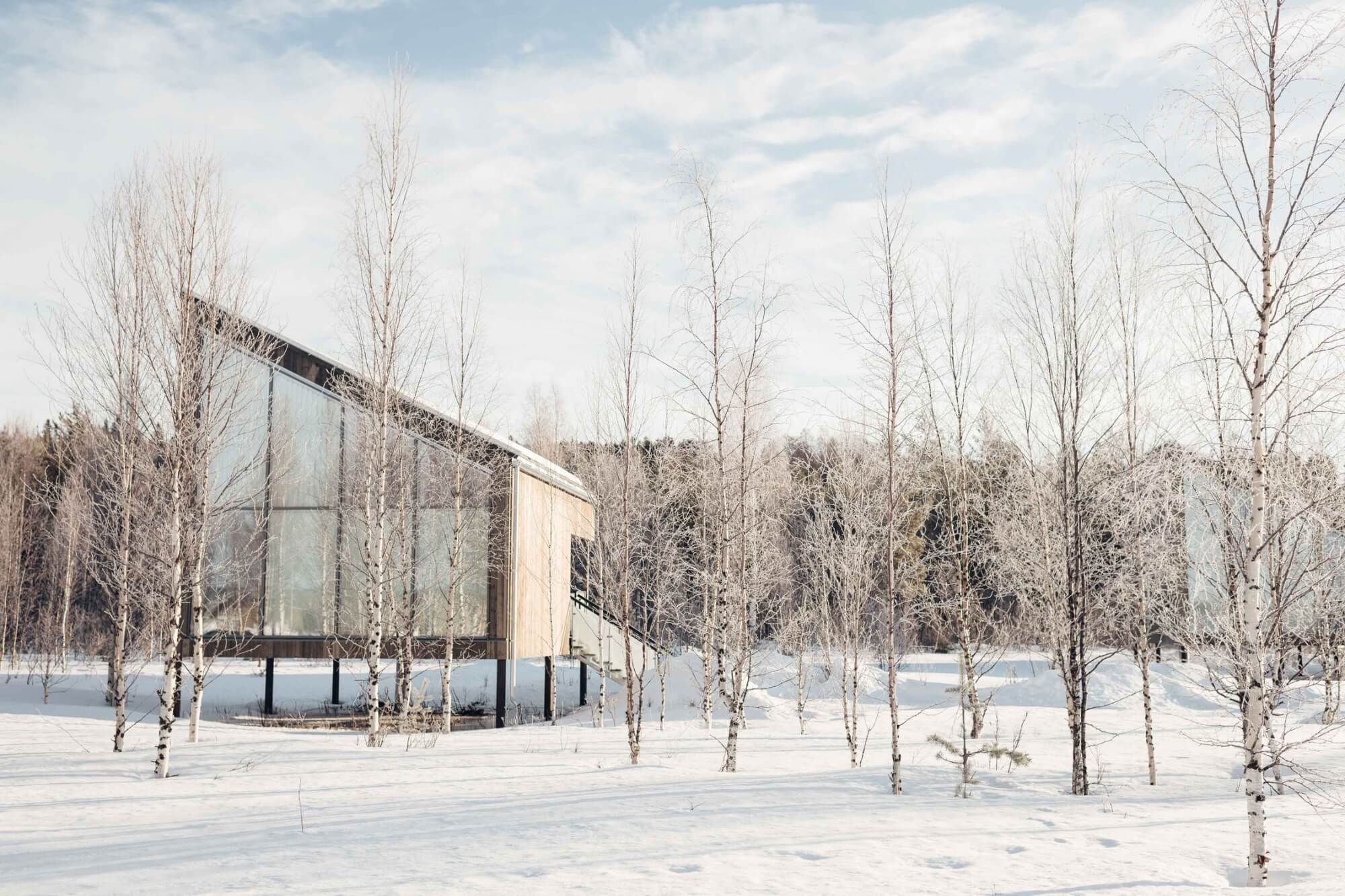 Suite Cabin at Arctic Bath, Sweden
There are many "my goodness" moments to be had at Arctic Bath, an extraordinary new resort in Swedish Lapland: its floating spa that looks like a game of pickup sticks, the sharp intake of breath as you plunge into the icy river that flows below (trust us, it's quite refreshing) and the geometric glass-fronted Suite Cabin that would make the most devout maximalist a cozy-minimalism convert. Plus, it's eco-friendly, built without harming a single tree. Depending on the season, your view is either Santa-ready snow and the frosted river (a wood-pellet burner and underfloor heating will keep you toasty) or pine clusters and timid fauna accentuated with mood-ring-colored skies.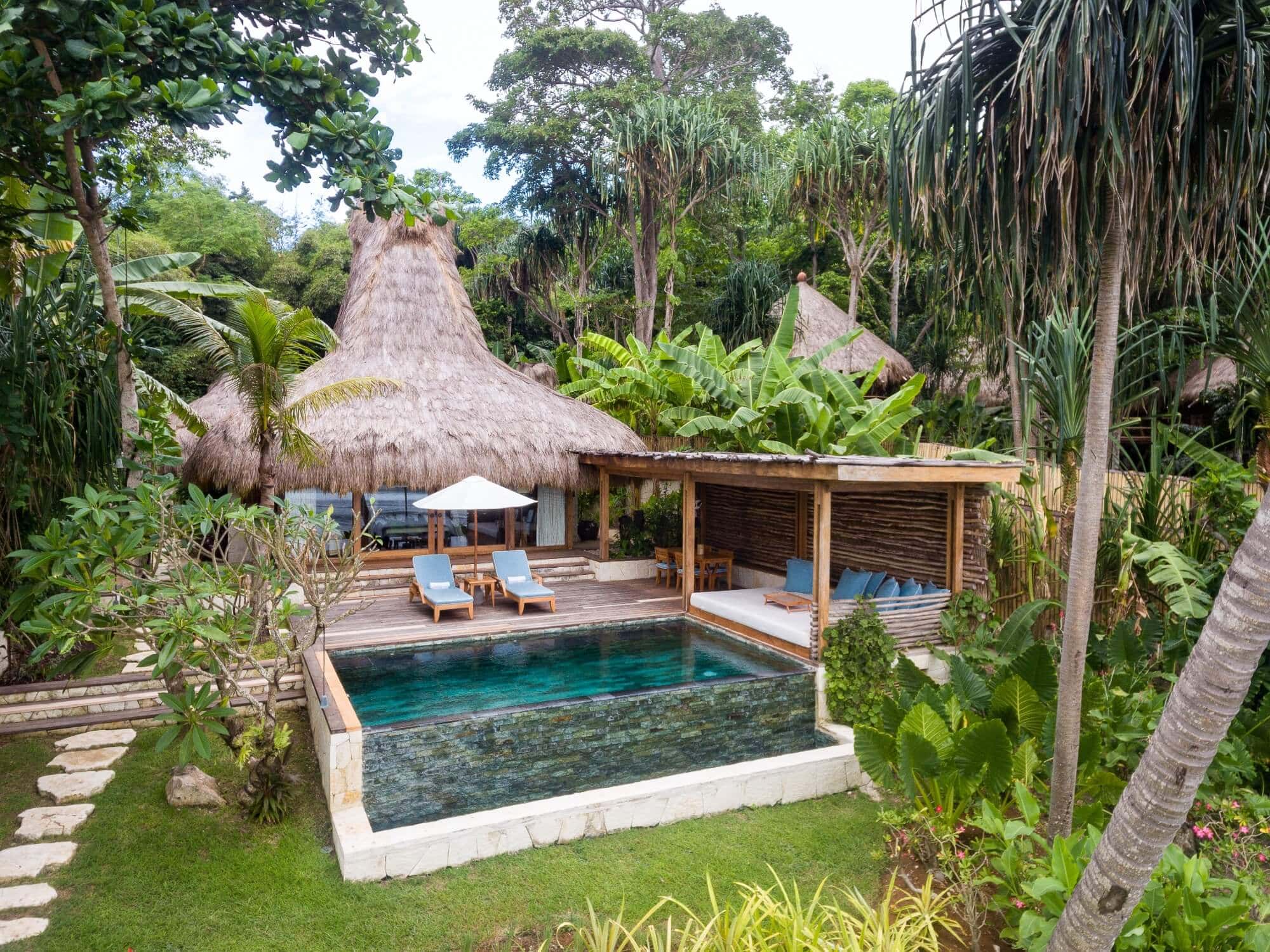 Marangga Villa at Nihi Sumba, Indonesia
There's an appealing air of authenticity surrounding Nihi Sumba, a jungly beachside retreat on one of Indonesia's lesser-trodden isles. After all, the hotel's Sumba Foundation provides humanitarian aid and educational programs to local islanders. The Marangga Villa includes a private butler; an indoor-outdoor bathroom with a tub large enough to fit one of Sumba's wild horses; and your own clifftop balé, which can be set up for ocean-view lunches, massages and snoozing under the stars (with a mosquito net). When you're not lazing in your infinity pool or knocking back housemade chocolates, why not try the hotel's most thrilling aspect: a private stretch of shore where the famously gnarly "God's Left" surf wave barrels in.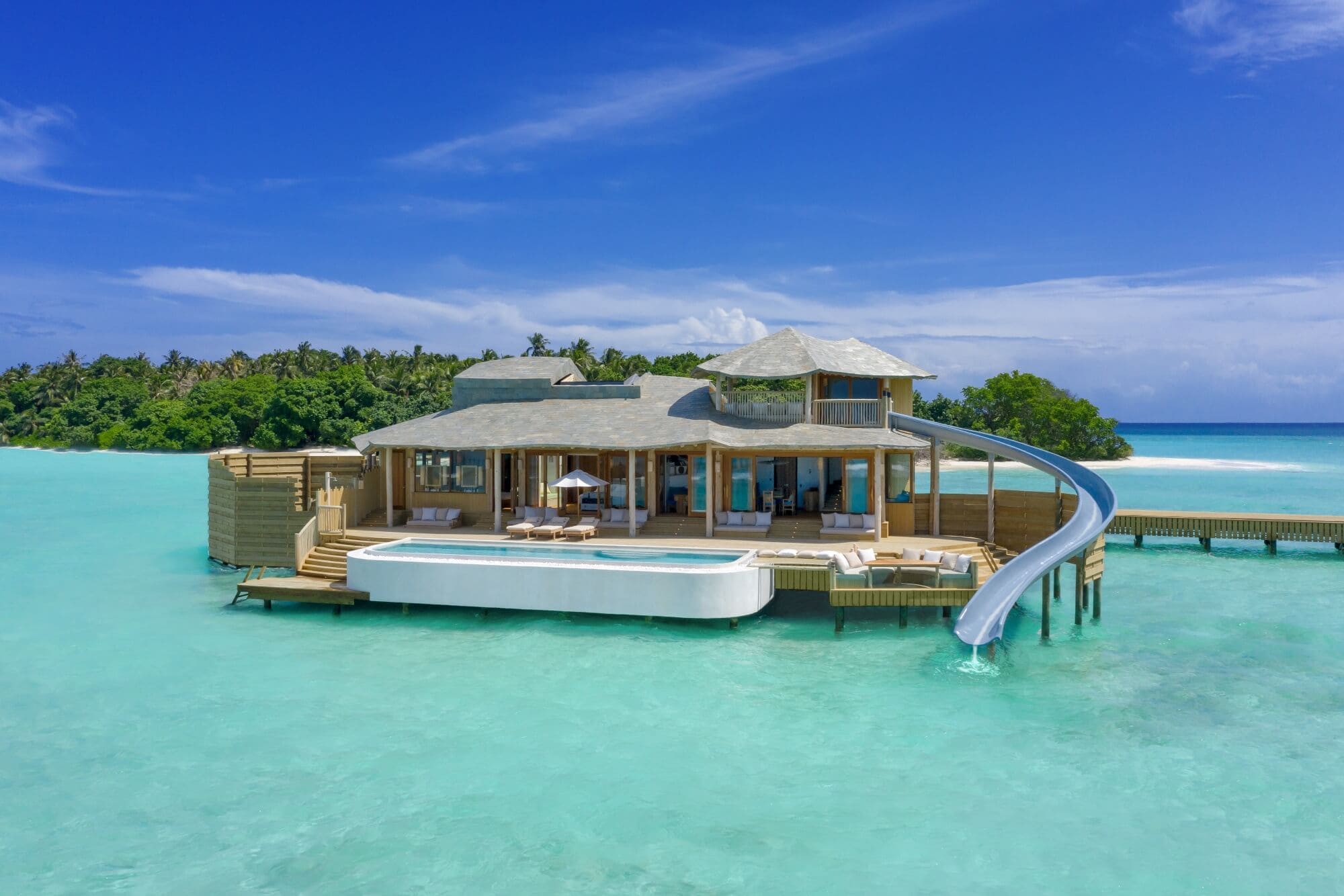 One-Bedroom Water Retreat with Slide at Soneva Fushi, Maldives
Wait—with slide? We hear you! Indeed, this vast overwater residence has just the thing to jog your childhood nostalgia: your very own waterslide snaking down from the upper floor. But that's not the only thing that sparks joy at Soneva Fushi, Maldives. A butler will keep you fed, hydrated and entertained (by arranging manta ray- and turtle-scoping snorkeling sessions, marine biologist tours and more); there's a rooftop deck for dining with vividly blue Indian Ocean views; and you needn't leave your bed to stargaze. Simply press a button, and the roof will roll right back for a—quite literally—heavenly night. If there's anything to entice you from your retreat, it's the private beach, open-air cinema, floodlit tennis court and decadent dining options. A fleet of provided bikes (or a barefoot walk) will get you there and back in style.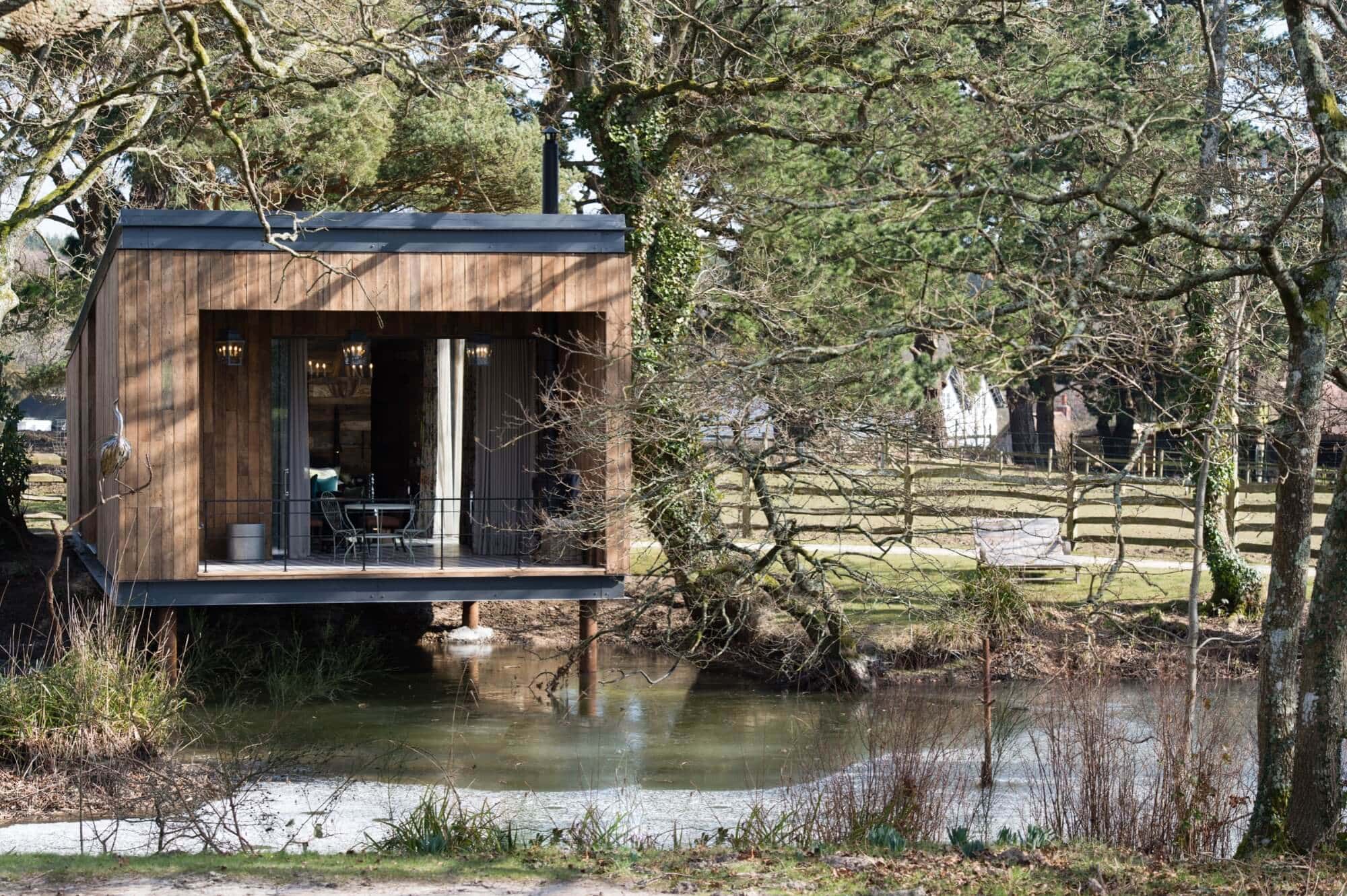 Lake Cabin at Lime Wood, England
Lime Wood, the Duke of Clarence's former country estate, is a regal darling in which we could definitely see ourselves sweeping around in period dress. But away from the genteel main house, down a private path by the grounds' peaceful lake, is a timber-clad cabin that offers couples the utmost privacy—so much so that a silver roll-top bathtub has been placed on the balcony for alfresco dips (with a wood burner to warm your unmentionables). The residence is cantilevered over the lake for a placid panorama. Within, it's dressed to impress with colorful floor tiling, a mix-it-yourself bar, dainty chandeliers and an emerald velvet sofa. Lime Wood's excellent garden-to-plate dining (courtesy of super-chefs Angela Hartnett and Luke Holder) and the floral-scented Herb House Spa are just a lazy stroll away.
Closer to Home
Road-trippers, get revved up for a change of scenery because Mr & Mrs Smith has also selected a handful of luxurious hotel suites closer to home. Whether you're longing for ocean views or cityscapes, these COVID-proof crash pads—with theatrical open-air terraces, sunset-spotting perches and other perks—have rooms from which you won't mind social distancing.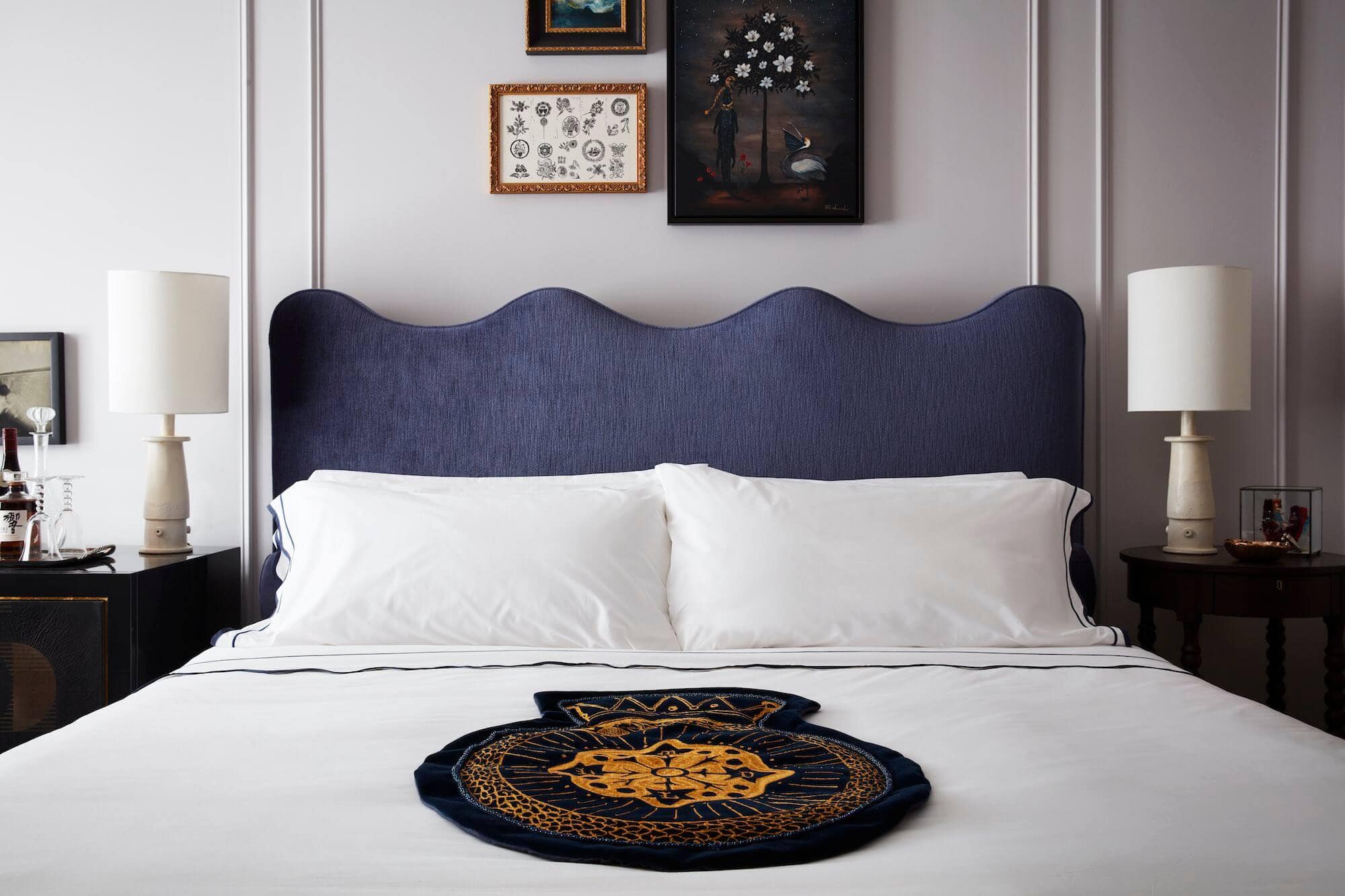 Grand Studio Suite at Maison de la Luz, New Orleans – Photo by Stephen Kent Johnson
Follow the light to downtown New Orleans, where Maison de la Luz is a bright, shining beacon of a stay with a full-swing speak-easy (a former winner of best date night bar in the Mr & Mrs Smith Hotel Awards), jazzed-up decor and a seriously covetable hideout in the Grand Studio Suite. This hip hangout's look is infused with local spirit: Vintage florals and tasseled velvets paired with one-off artworks and quirky keepsakes.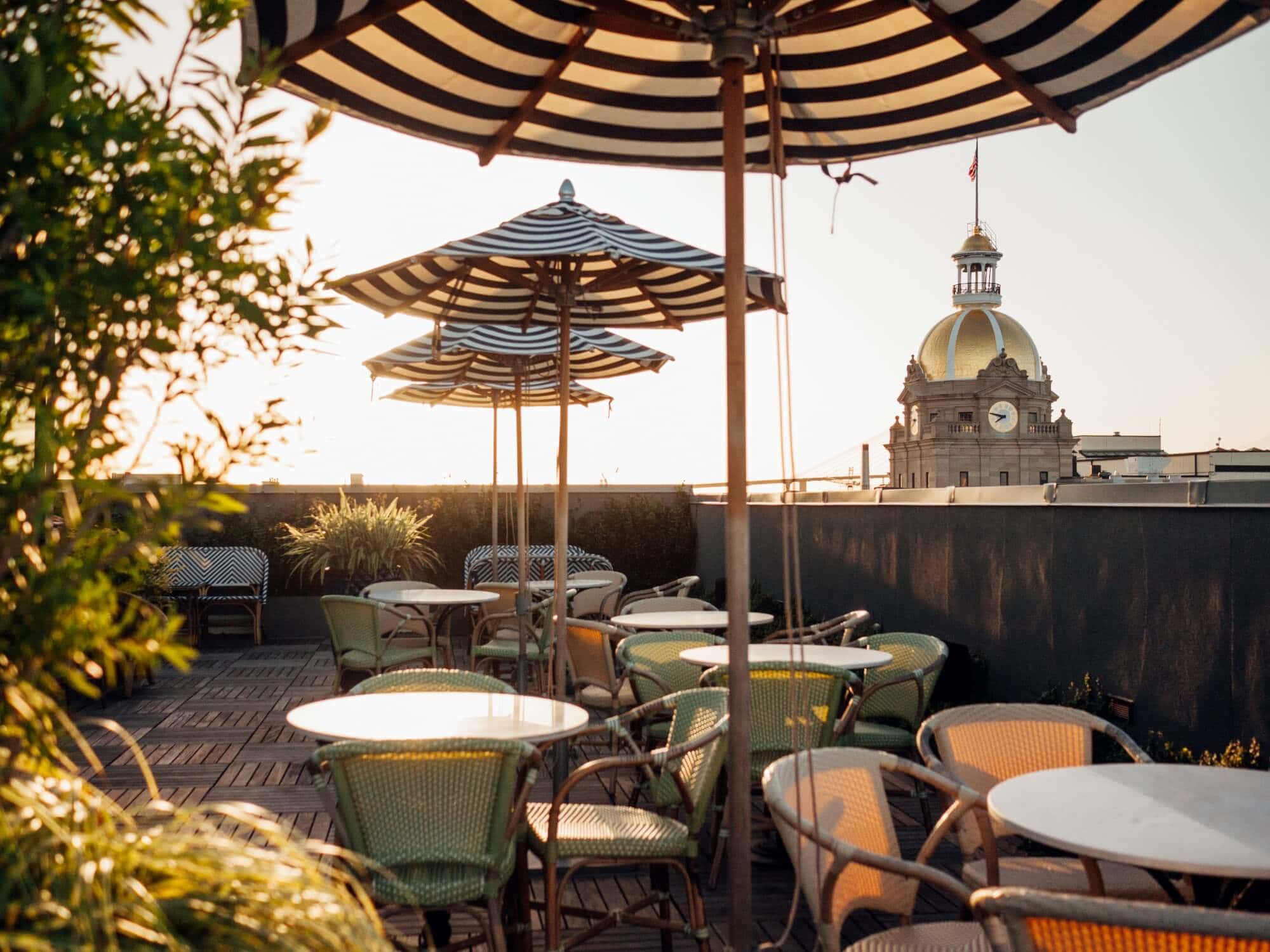 The Suite at The Drayton Hotel, Savannah
Unafraid of color, bedecked with plants and blessed with both a basement speak-easy and a rooftop bar, The Drayton is a stylish base in Savannah's Spanish-moss-draped historic district. Its spacious suite, which boasts a clear view of City Hall's decorative dome, has a retro look that's further enhanced by the bathroom, where the hotel's only bathtub resides. Follow a leisurely soak with a few slugs of bourbon as you take in the view from the top.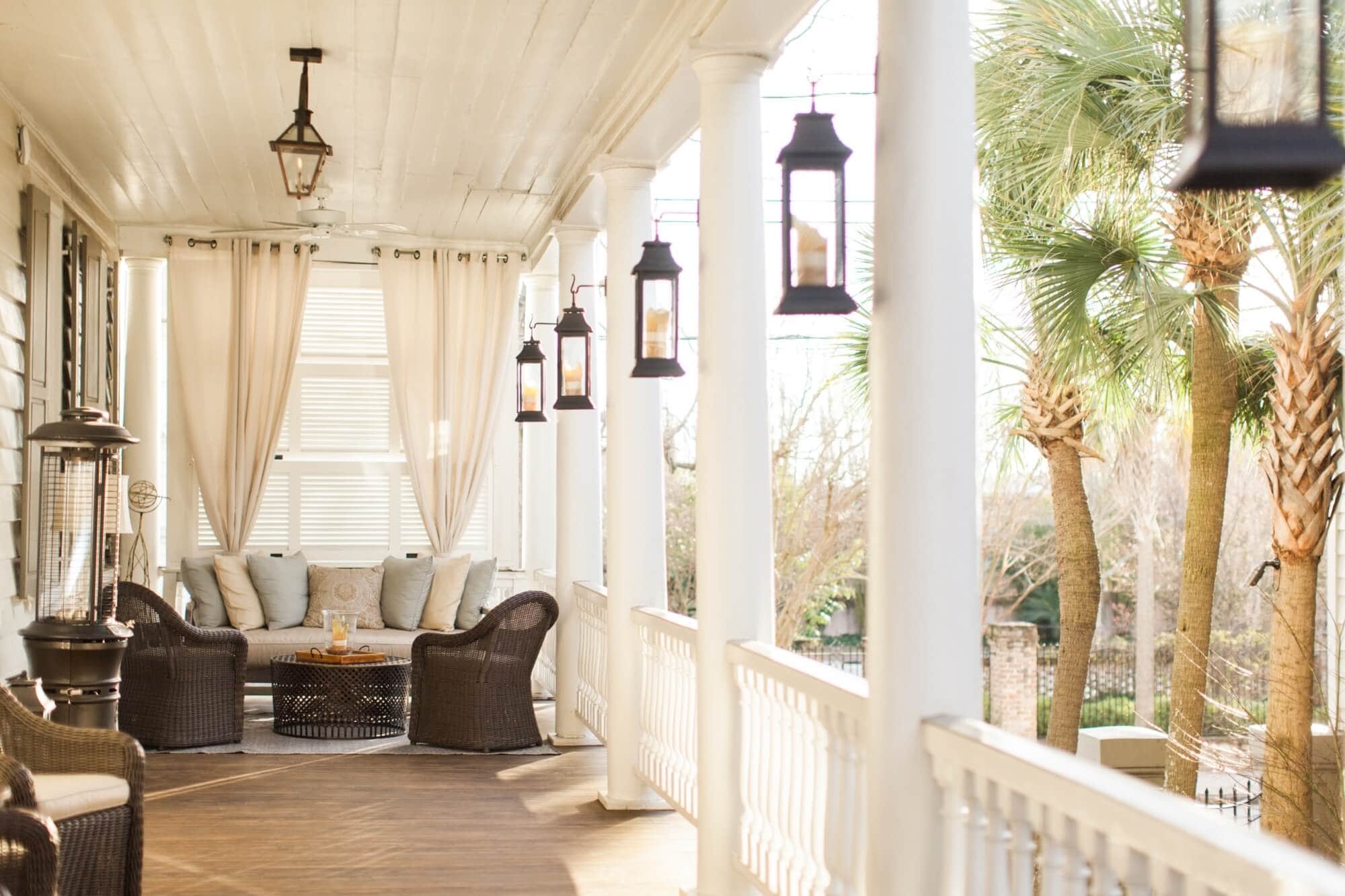 Anson Suite at Zero George Street, Charleston
Southern belle Zero George Street has taken five 19th-century colonial buildings near main drag King Street and primped and preened them into a thoroughly modern hideaway. Sequester away in the Anson Suite, where you can lazily fan yourself on your private furnished piazza. Inside, period detailing, heart-pine flooring, duck-egg-blue walls and sophisticated furnishings make this the coziest of nests in which to hunker down (until the 5 p.m. wine and cheese hour, that is).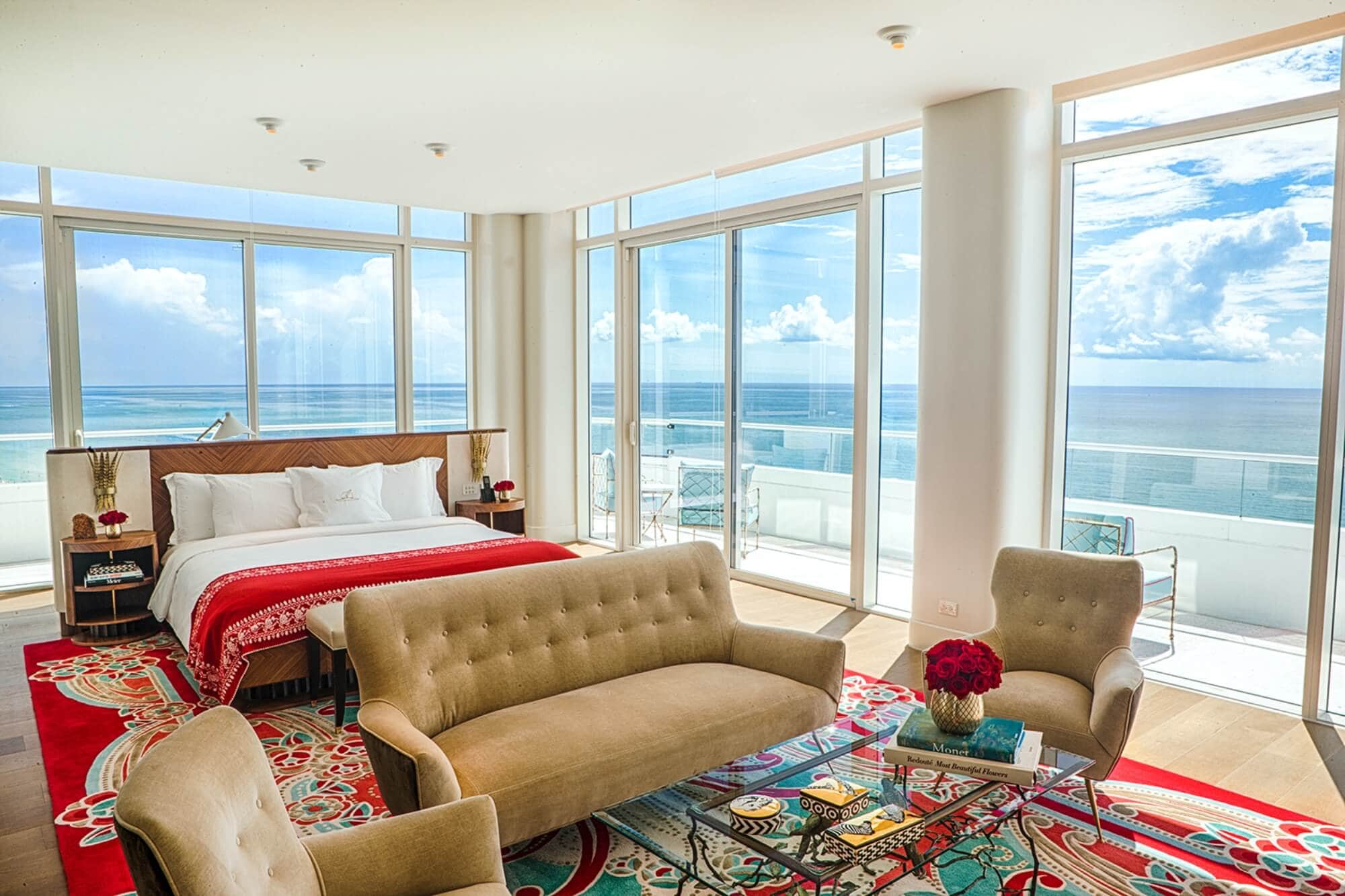 Penthouse Suite at Faena Hotel Miami Beach
With a gilded mammoth skeleton on the grounds (courtesy of Damien Hirst), taxidermy peacocks propping up the bar and a dazzling vintage-style theater, Faena Hotel Miami Beach is a fantastical showpiece of a staycation. After all, its lashings of leopard print, art deco detailing and gilt edges are the work of flamboyant director Baz Luhrmann and his costume-designer wife, Catherine Martin. Embrace the decadence and book the Penthouse Suite for soul-restoring ocean views, bespoke Frank Pollaro furnishings, your own grand piano and on-call butler.
Who Are Mr & Mrs Smith?
Founded in 2003, Mr & Mrs Smith is the travel club for hotel lovers, an award-winning boutique-hotel booking service specializing in the world's most seductive stays. There are now more than 1,300 boutique and luxury hotels in the collection, all handpicked by experts and reviewed (anonymously) by globe-trotting tastemakers. Smith members receive the company's best-price guarantee, free extras on arrival (think: a bottle of Champagne or a 30-minute massage) and service by phone from a team of in-house travel specialists. Visit mrandmrssmith.com to browse and book.