Boca Raton-based Real Estate Owner & Operator Basis Industrial Closes on $12.1M Construction Loan for Self-Storage Facility in New Jersey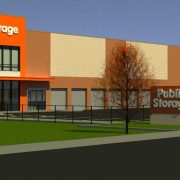 View Gallery
Basis Industrial, a privately held and vertically integrated real estate owner and operator based in Boca Raton, Florida, closed on a $12.1 million construction loan on Thursday, Aug. 31 for a self-storage facility located at 111 Centennial Blvd., Voorhees Township, New Jersey 08043. Basis Industrial acquired the land on which the storage facility will be built in fall 2022.
Berkadia sourced the construction loan from WSFS Bank. In later September 2023, Basis Industrial plans to break ground on the 113,000-square-foot, state-of-the-art self-storage facility featuring climate-controlled units, advanced security systems, and other amenities. Slated construction completion is fall 2024. Basis Industrial plans to have a third party, Public Storage, manage the facility upon completion.
An ideal location for a self-storage facility, the now vacant site is easily accessible from major highways and in close proximity to residential areas. Basis acquired the development site in the fall of 2022 from Taylor Mills for $1.115 million. Jeffrey Lucas of Rose Commercial Real Estate represented both the buyer and the seller in that land transaction.
Basis Industrial, which is expanding its portfolio of industrial and commercial properties across the U.S., currently has 15 storage projects at varying stages of completion throughout the U.S.
"The construction of our self-storage site in Voorhees Township, a growing market for self-storage, is a strategic opportunity in a prime location with strong market fundamentals," said Daniel Weinstein, CEO of Basis Industrial. "It is one example of our continuing growth and investment in markets throughout the country."