Trending Golf: Seeing Greens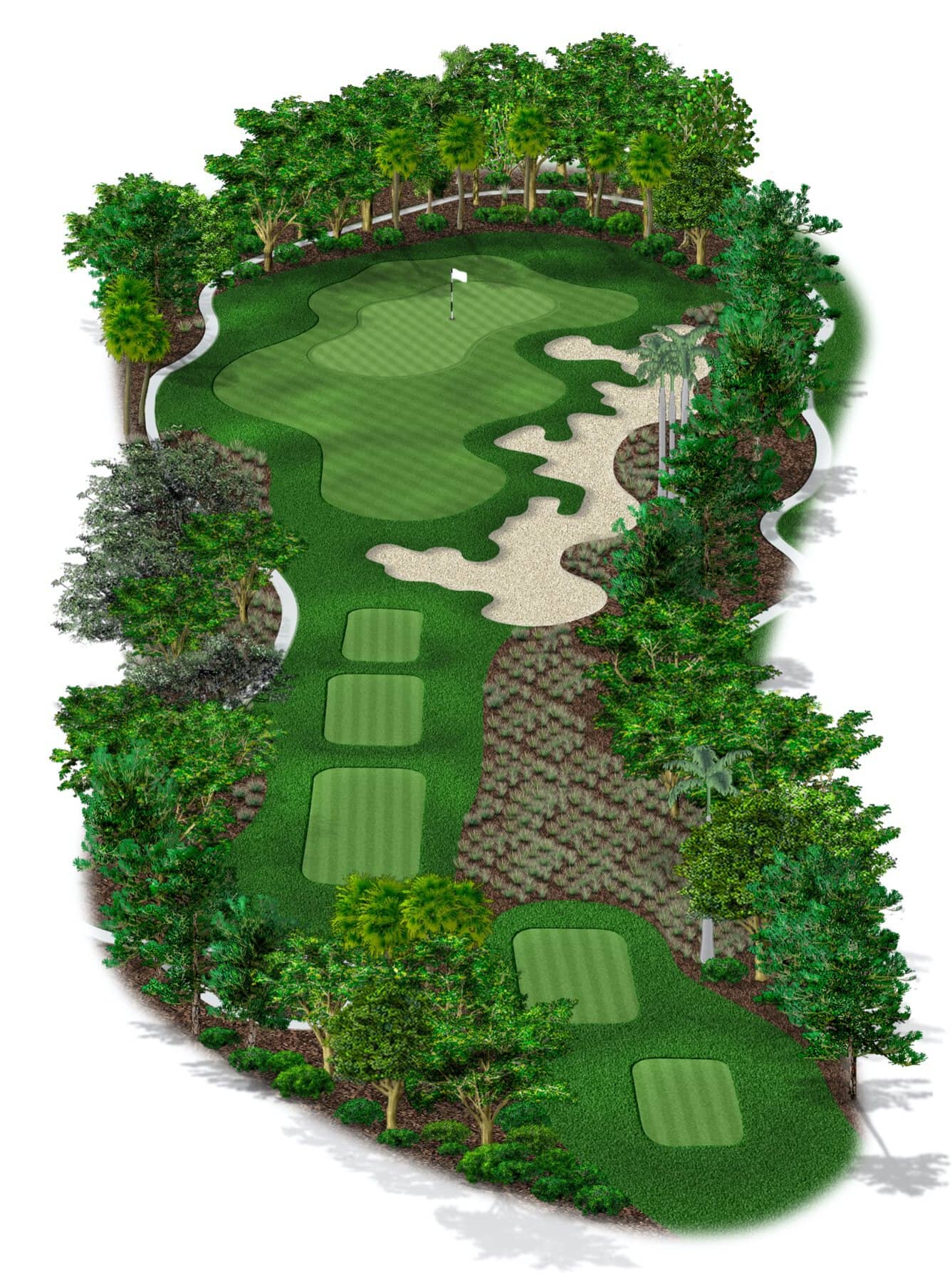 Rendering of Fort Lauderdale Country Club's updated 15th hole
Golf courses get better over time—after they've received makeovers from some illustrious friends, of course. This will soon be the case for Fort Lauderdale Country Club as it commences a $3.7 million North Course renovation at the hands of golf course architect Kipp Schulties, who, over the last 20 years, has signed his name to more than 60 projects. Here, we ask him a few questions. 
 Tell us about your background. After I obtained my degree in civil engineering from Purdue University, I spent five years working for Fred Couples Design (just as he was becoming the No. 1 golfer in the world). After completing my MBA from the University of Miami in 1998, I started my own firm. Since then, we have worked on more than 60 projects—the majority of which are in South Florida—ranging from $3 million to $12 million in scope. 
Which course architects do you admire? I've had the privilege of working on projects previously designed by Jack Nicklaus, Tom Fazio and Pete Dye, and I have created my own style by implementing elements of theirs. Jack sets up a great tournament-ready course. Tom is an artist of the land who sets up a very visual course. Pete is the polar opposite of the first two, but is probably the best at combining visual intrigue with tournament readiness. 
What do you love most about your job? I get the most enjoyment in seeing others love what I have created—projects few can envision. We have an end result that people can see, touch, smell, feel and, oftentimes, hear. I like to say that on most earthly projects, architects just work with what God gave them as a canvas. That isn't the case in South Florida. Here, every inch of contour and character is man-made. 
What are your favorite courses to play? I've played Cypress Point (in Pebble Beach) six times, and I got engaged at the 17th tee box there, so I'd have to go with that one. Pine Valley in New Jersey and a little-known nine-hole course on the Indiana-Michigan border called the Dunes Club are also pretty cool spots. 
Any courses still on your bucket list? Royal County Down in Northern Ireland is near the top. Ian Baker Finch (of 1991 British Open fame and now CBS golf commentator) is a good friend, and he says it is one of the best courses in the world. I trust his judgment. 
What are you most excited about in regards to Fort Lauderdale Country Club's renovation? I've been affiliated with the club for over 10 years, but this is the first chance we've had to work together. Our intent is to mechanically and strategically modernize the course. We'll be upgrading the infrastructure, adding tee locations to modify strategy and relocating water features, bunkers and even entire holes to mix up the routing. With all that, plus creating more visual intimacy between holes, it is going to be an entirely different golf experience when completed.