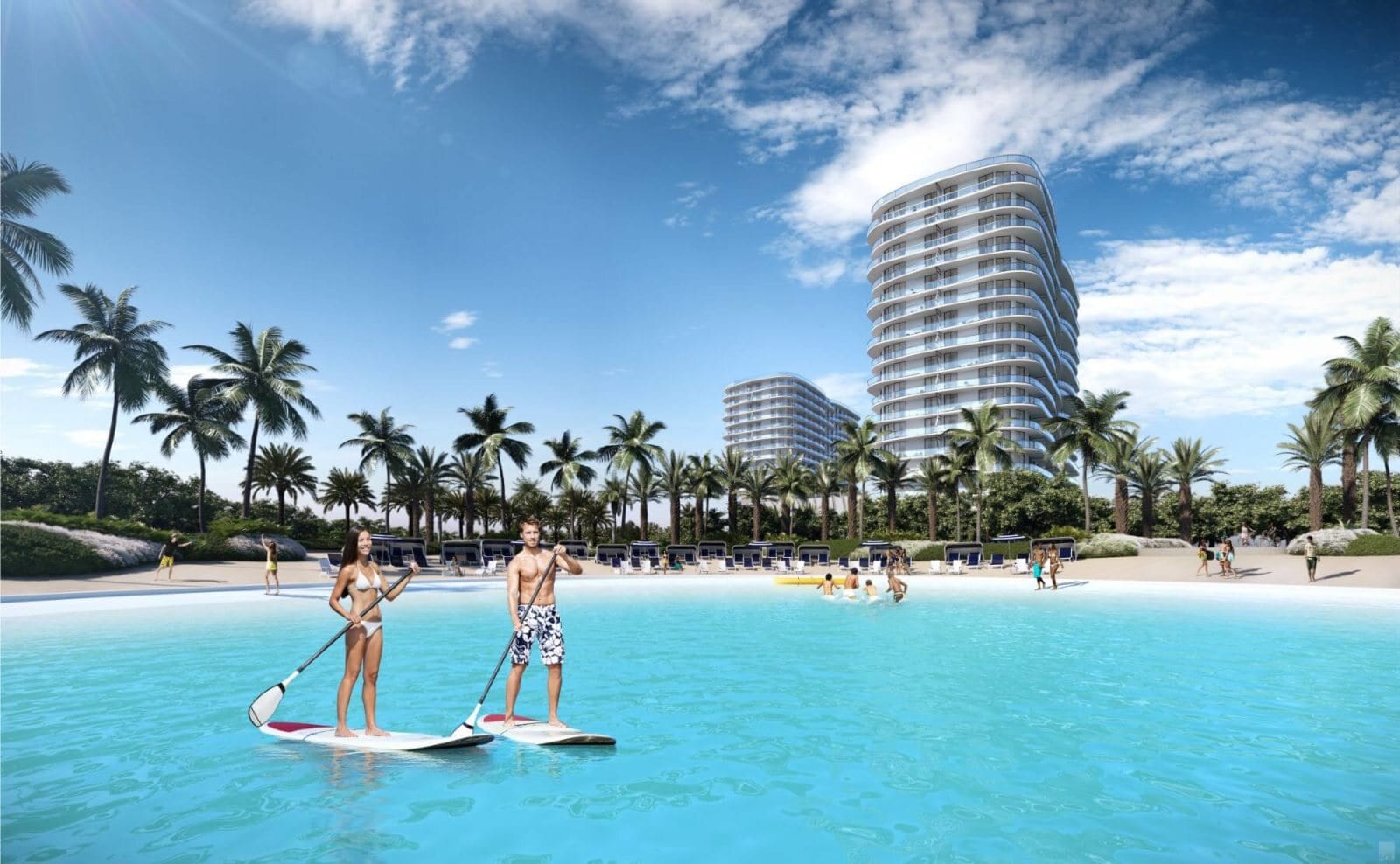 The Shoreline at Solé Mia
Buzz-worthy luxury properties from Miami to Palm Beach are making waves with their outstanding water features.
The role water plays in our Summer issue's themes of Destinations and Wellness inspired us to think about how important water is to South Florida real estate projects. Whether it's a colossal man-made lagoon, a convenient place to dock your yacht or a spa full of hydrotherapy components, you'll want to dive right into the water-focused amenities included in these new developments.
At The Shoreline at Solé Mia, residents feel like they are living on a Caribbean island thanks to the 7-acre lagoon by global brand Crystal Lagoons. A first of its kind in South Florida, it is the pièce de résistance of this $4 billion master-planned community by New York mega-developer family the LeFraks and South Florida's own prominent development family the Soffers. "Residents are captivated by waterfront living at the Shoreline," says LeFrak Chairman and CEO Richard LeFrak. "Its 397 residences have brought long-awaited, amenity-rich luxury rental housing to North Miami." The Shoreline, jointly designed by Arquitectonica and Robert M. Swedroe Architects, welcomed its first residents in February. It comprises just two of Solé Mia's 12 planned residential towers. 2321 Laguna Circle, North Miami; 786.422.0672; shorelinesolemia.com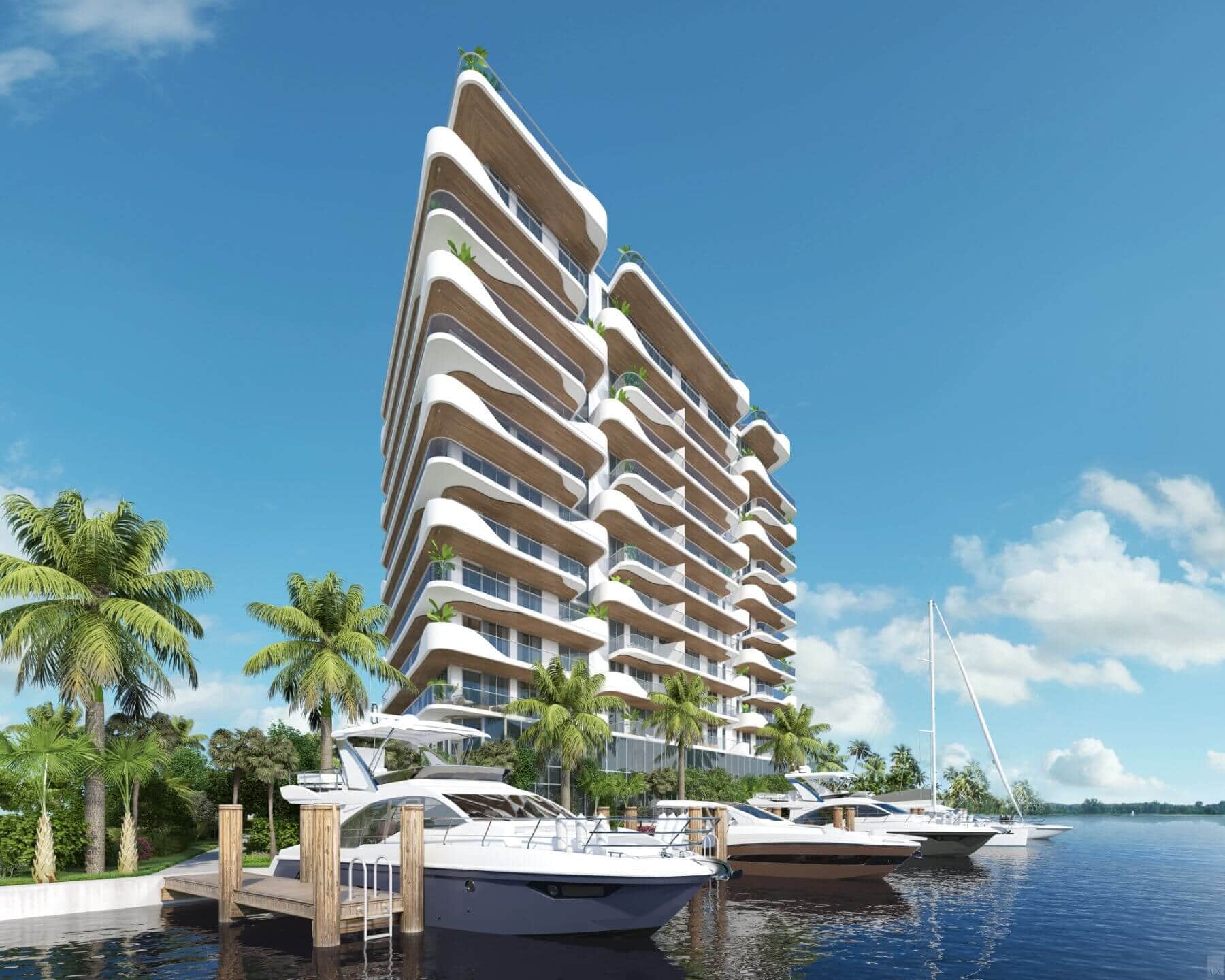 Monaco Yacht Club & Residences is a 12-story tower inspired by the French Riviera's playground for the rich and famous. Situated on one of the last remaining waterfront properties on Miami Beach's Indian Creek Drive, the project includes a 12-slip marina accommodating vessels up to 55 feet and will have a designated yachting concierge to attend to the needs of residents. "Our aim was to create a timeless design while bringing the sophistication of European coastal living to Miami Beach," says Ricardo Tabet, owner and CEO of Optimum Development USA. "Led by two of the most esteemed names in design, Piero Lissoni and Arquitectonica, our team has blended the most celebrated elements of Miami—the culture, the water, the beach—to create the ultimate waterfront lifestyle."6800 Indian Creek Drive, Miami Beach; 305.742.0089; monacoyachtclubresidences.com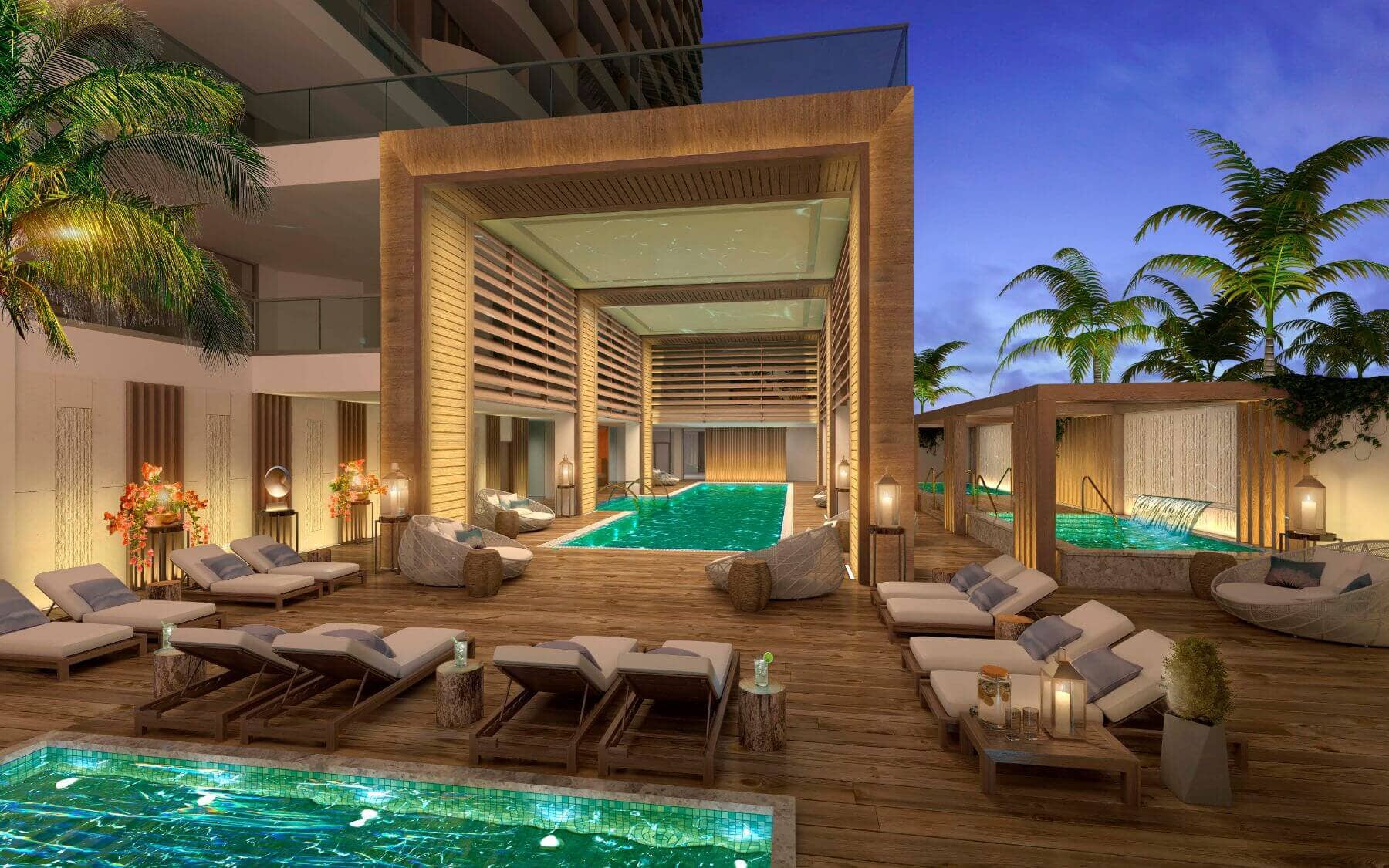 A collaboration between Creative Choice Group and S&E Architects, Amrit Ocean Resort & Residences on Palm Beach's Singer Island embraces the restorative properties of water. A significant portion of the project's 100,000 square feet of spa and wellness space is dedicated to an "Aayush" hydrothermal area. "Aayush, which means 'longevity' in Sanskrit, offers curated hydrothermal-focused experiences not found anywhere else in the world," says Alison Howland, vice president of wellness programs and resources. The replenishment pools—one warm, one cool—enhance circulation, while an effusion shower offers a "hydro-journey" of soothing mists, intense deluge storms, downpours of tropical rain and mystic arctic chills. Another unique perk: Penthouse owners will enjoy ritual bath butler services. 3100 N. Ocean Drive, Singer Island; 561.220.2490; amritocean.com
As new and innovative applications of H2O continue to enhance South Florida's oasis of luxury properties, it's fair to say that our thirst for water is thoroughly quenched.