Real Estate Showcase: Bright Lights, Big City
Developers set their sights on Downtown Miami's urban core.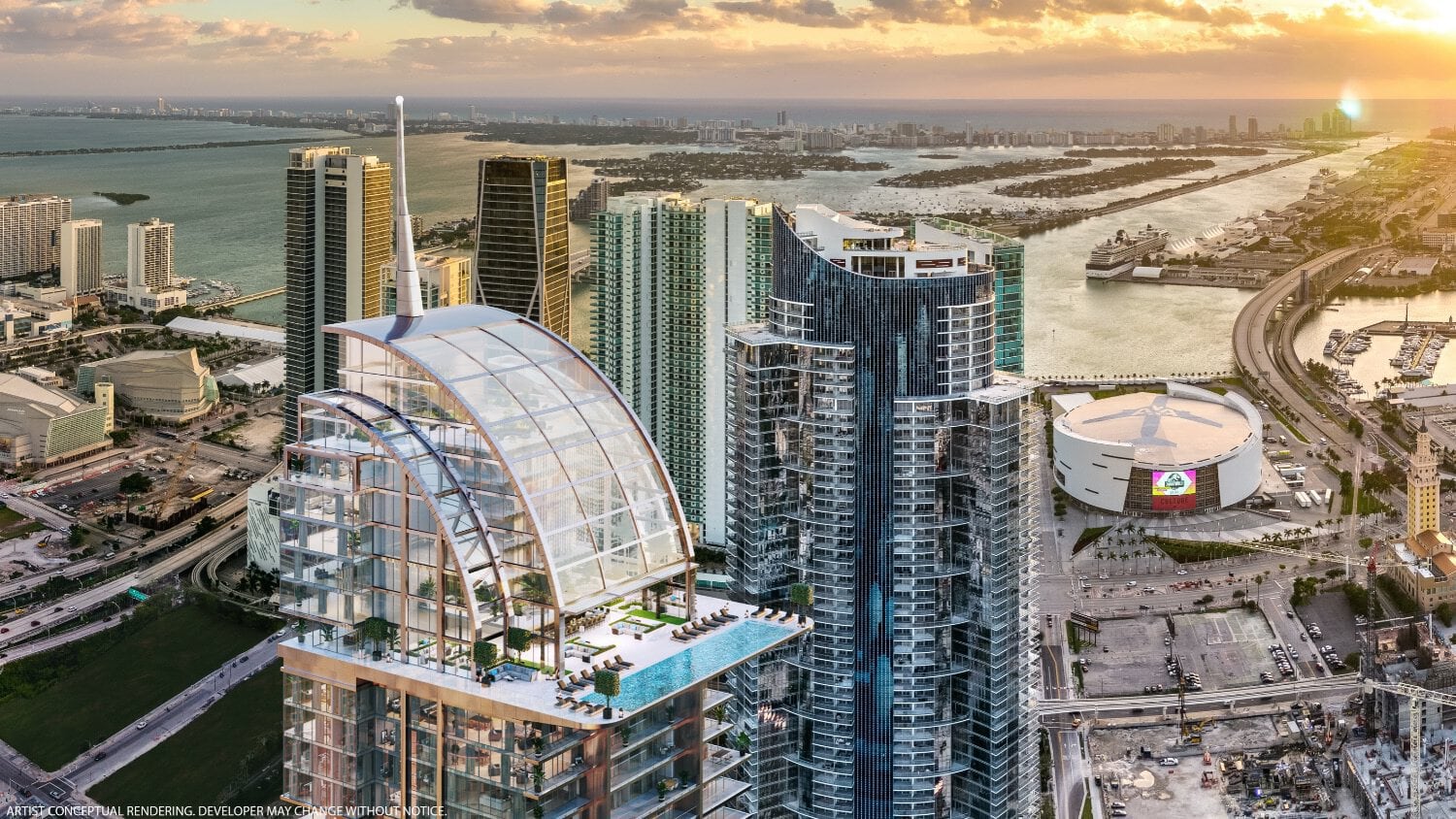 Rendering of Downtown Miami with Paramount Miami Worldcenter and Legacy Hotel & Residences
Not long ago, if you wanted to buy luxury property in Miami, you looked to the beach or the suburbs. But now, homebuyers—and, therefore, developers—are turning their attention to urban areas like Downtown Miami. "Today's luxury buyers are driven by product and location," says Jay Phillip Parker, CEO of Douglas Elliman's Florida Brokerage. "Requirements such as accessibility, amenities and lifestyle play a more significant role in their decision-making process. The demand for these stipulations, combined with the scarcity of land in the South Florida market, have paved the foundation for more urban luxury projects to be successful."
City Living
As the quality of life for Downtown Miami continues to improve, it's attracting more and more urban dwellers searching for walkable communities with easy access to restaurants, shopping, entertainment and cultural opportunities, not to mention mass transit. "The development of high-end properties is a reflection on how rich and vibrant Miami's downtown environment has become in the past decade," says Anthony M. Graziano, chairman and CEO of Integra Realty Resources, a real estate consulting firm. "The arts, entertainment, quality dining and recreation options—with the added benefit of the Miami River and Biscayne Bay views—provide a lifestyle alternative equivalent to living on Chicago's North Shore or New York City's Upper East Side."
Movin' On Up
One project taking advantage of all downtown has to offer is Paramount Miami Worldcenter, which received its temporary certificate of occupancy in July 2019. It soars 60 stories high and features a full slate of amenities, including a boxing gym, the country's first outdoor soccer field for a high-rise residential development and a Jetsons-style "skyport." In 2022, Paramount will be joined by Legacy Hotel & Residences at Miami Worldcenter. The mixed-use tower will feature 278 "microLUXE" residences atop a 255-room hotel; the residences were designed for cosmopolitan travelers who want the flexibility to live in or rent without restrictions. Amenities include a members-only business lounge, a cantilevered pool, a medical and wellness center and an enclosed rooftop atrium. 
"With our experience selling Downtown Miami through previous projects during various real estate cycles, we understand buyers and their demands," says Peggy Olin, president and CEO of OneWorld Properties, which is handling sales and marketing for both Worldcenter projects. "We are offering an alternative to buyers who are seeking smaller living and larger experiences."
From Highway to Sky-High
Downtown Miami has also caught the eye of international luxury brand Aston Martin, which, in partnership with G&G Business Developments, is currently building the first-ever Aston Martin Residences, a 66-story, 391-unit luxury condominium set for completion in 2022. The striking structure of curvilinear glass and steel is rising on one of the last parcels of developable land on the downtown waterfront. Amenities will span four full levels between the building's 52nd and 55th floors and will include a double-level fitness center, a spinning studio, a golf simulator, two cinemas and a full-service spa. Residents will also enjoy direct access to the bay via an exclusive superyacht marina.