The lauded glassmaker and French lifestyle brand brings its exuberant history and iconic style to the tony Bal Harbour Shops.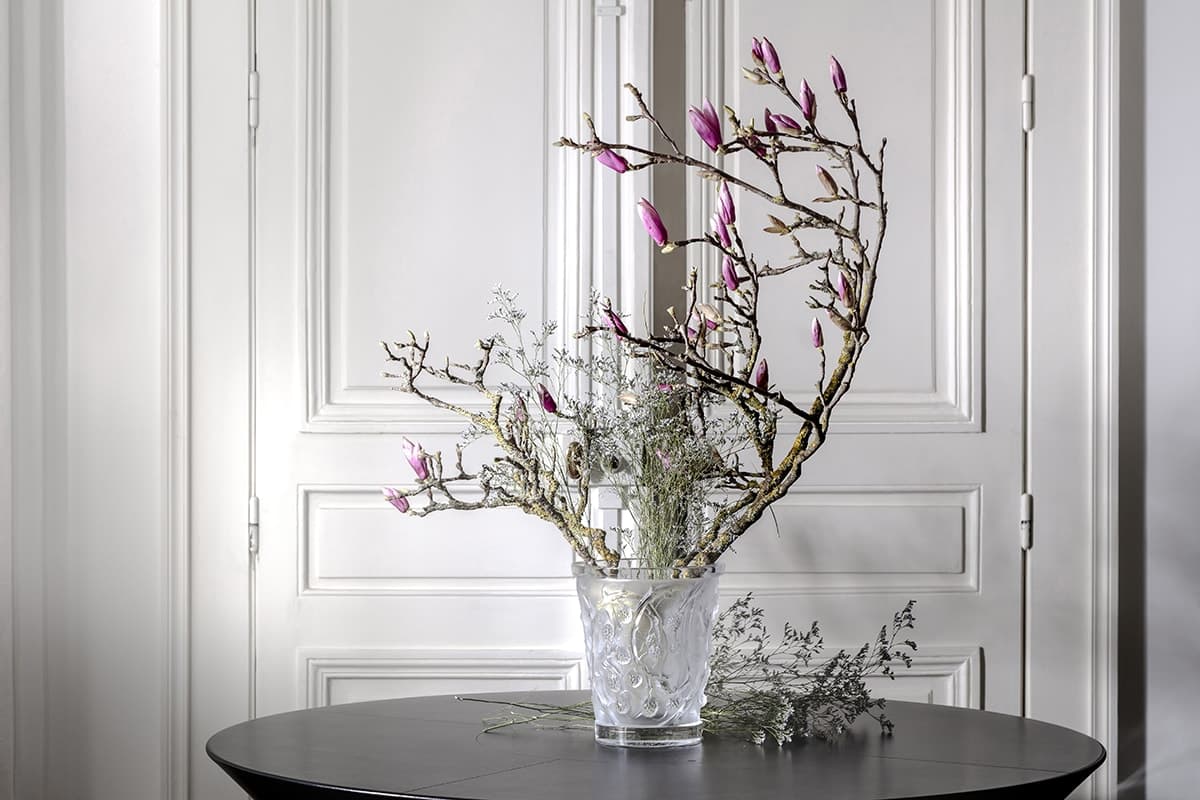 Mûres vase (Photo courtesy Lalique)
Envisioning a world without Lalique is like walking to the moon: c'est impossible.  Join us as we explore the Past, Present and Future of Lalique.
Hailed as the forefather of modern jewelry, founder René Jules Lalique began his career as a designer of fine jewelry in the late 19th century. After apprenticing with jeweler Louis Aucoc and then crafting baubles for Boucheron, Cartier and other legendary houses, he launched his own business in 1888 where he fashioned both unique and attainable jewelry.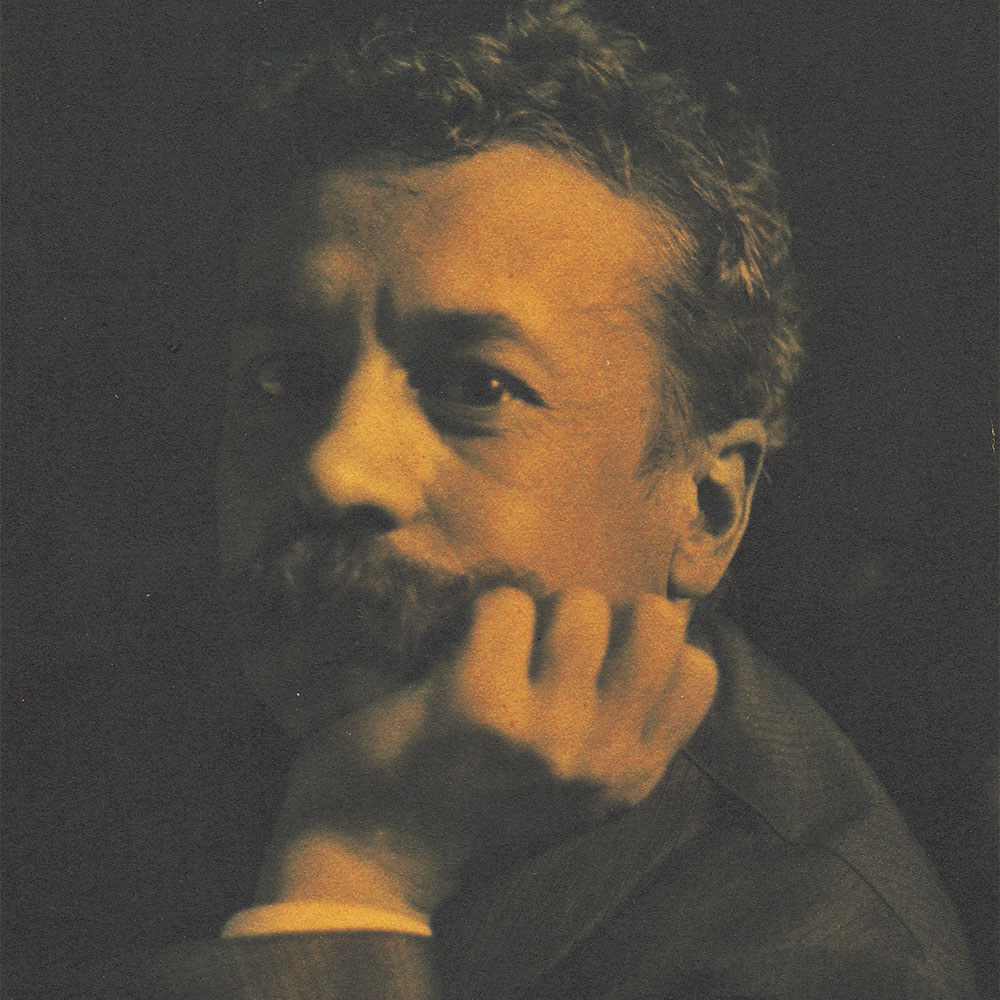 His brooches, pendants and rings were inspired by Japanese art, nature and the feminine form, and blended unconventional materials of the day—glass, iridescent enamels, horn and ivory—with gold and gemstones. After nearly two years, the 30-year-old had transcended into one of France's most talented and respected art nouveau designers of jewelry.
Gradually, the avant-gardist's focus shifted from jewelry to glassmaking and, in 1909, he rented a glass factory near Paris to manufacture the elegant flacons he designed for perfumer Françoise Coty and other French olfactory scions, including his own eponymous scent bottles, homeware and objets d'art.
Lalique also received commissions to design architectural glass for buildings, trains and cruise ships. One of his most swoon-worthy designs was the frosted panels he made for the legendary Côte d'Azur Pullman Express featuring grapes and bacchanalian maidens, which were subsequently ensconced on the Orient Express and featured in the 1974 film, "Murder on the Orient Express."
MODERN DAY
Today, the Lalique name continues to encapsulate the elegance and glamour of the golden age of design, but the Zurich-headquartered company has not been resting on its laurels. After Lalique's passing in 1945, his son Marc, a designer and engineer, commandeered the business. One of his innovations was adding lead to glass to make it heavier and more crystalline. Marc's daughter Marie-Claude carried on her father and grandfather's artistry and added more elaborate jewelry designs, as well as venturing into fragrance, textiles and leather goods. The Martinets vase and peony-encrusted Pivoine bowl were two of her designs.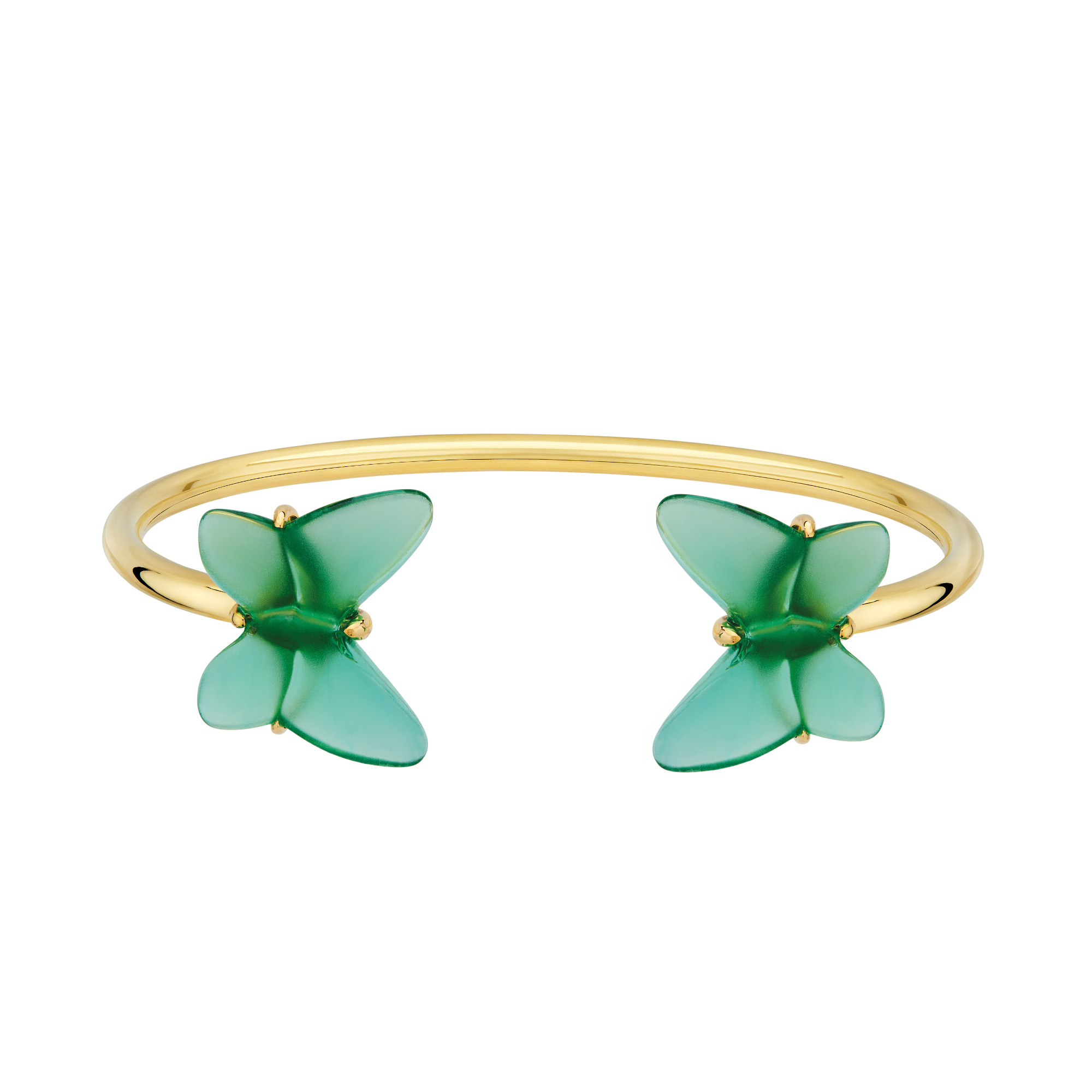 Through the Lalique Art Division, the company hosts collaborations with accomplished artists like Sir Elton John, who supply their own artistic spins. For the spring, summer and winter 2021 collections, Lalique teamed up with British artist Nic Fiddian-Green to recast his 33-foot-tall Still Water bronze sculpture of a horse drinking water into smaller amber, blue, clear and black crystal sculptures.
Lalique pays homage to its past and present with homewares that balance function and beauty. Its collections encompass home accessories, furniture, drinking and dining accessories, lighting, and soft furnishings like cushions and bed linens. Lalique Studio recently expanded its popular Gaïa by Lalique collection with a line of products that include numbered-edition crystal vases and bowls adorned with familiar Lalique imagery like merles, raisins and heart-shaped pepper leaves.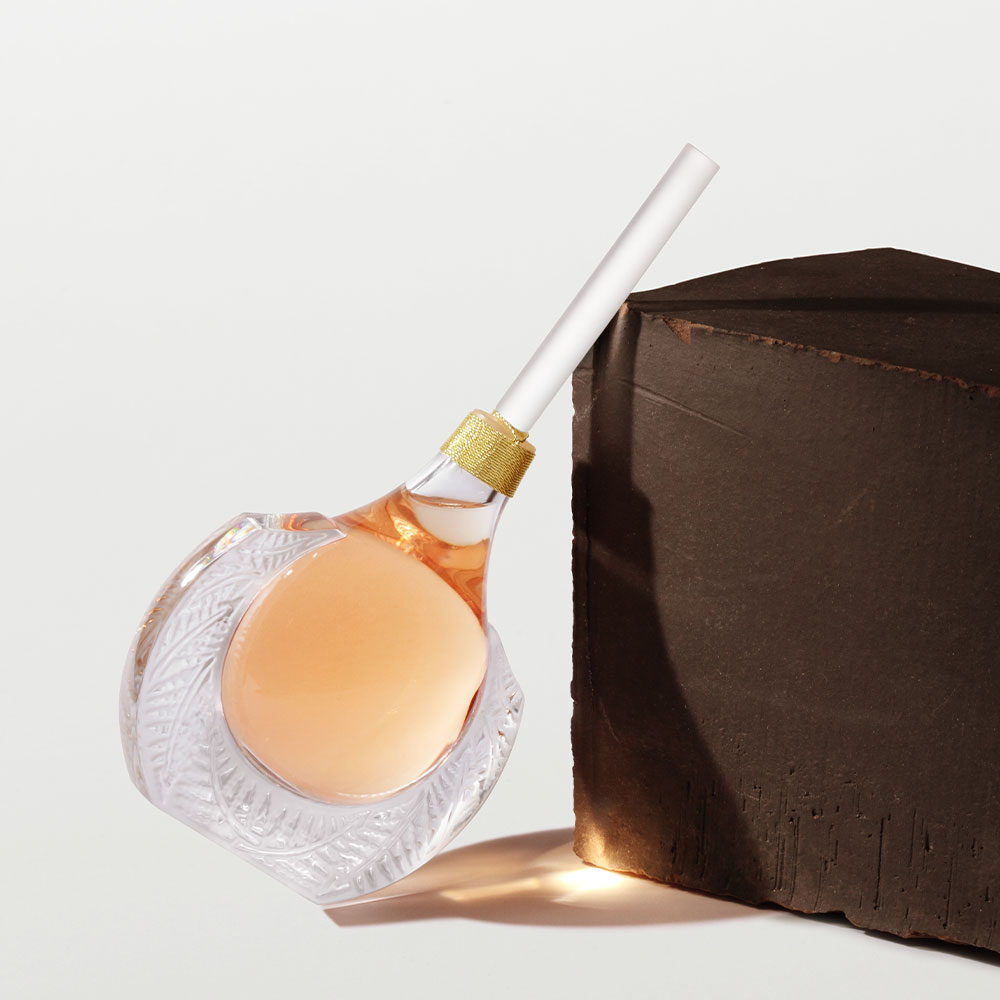 Lalique has always been synonymous with perfume. Produced at Cristallerie Lalique, the company's sole production facility in Alsace, every flacon reflects the apex of French craftsmanship. The Lalique de Lalique Fougères Crystal Edition 2022, now on sale at select stores, was released this fall and is decorated with a delicate fern motif.
If glass is Lalique's heart, then jewelry is its soul. When Marie-Claude succeeded her father as president in 1977, she reinvigorated the company's jewelry arm,
which flourished alongside new developments in the fragrance business. A pair of new collections was released as a part of the 2021 Fall/Winter collection, Gaïa: Papillon (Butterfly) and Vigne (Vine) that honor Lalique's venerated Alsatian roots and proclivity to nature.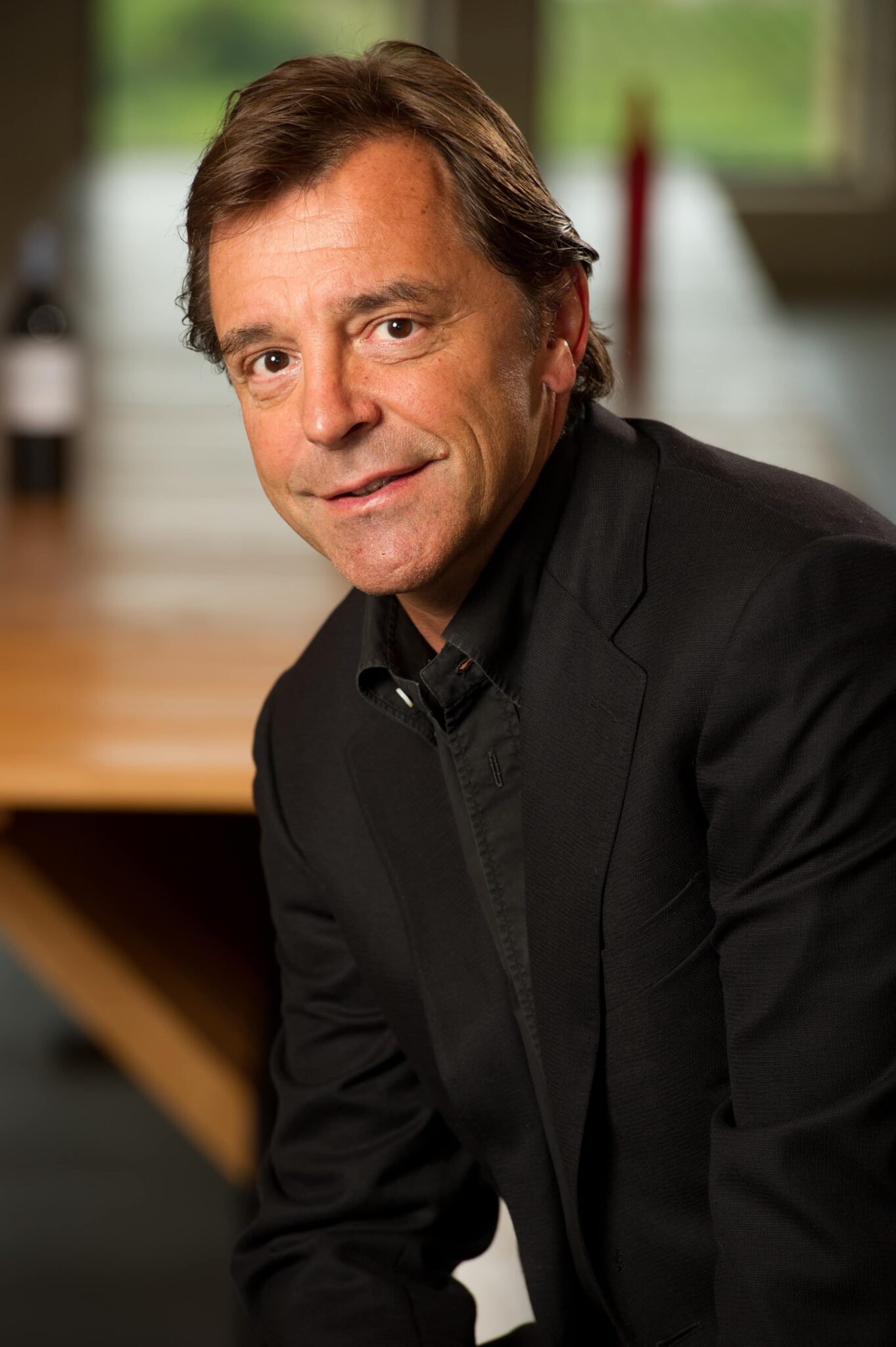 MOVING FORWARD
This winter, the luxury house will unveil its newest outpost at the stylish Bal Harbour Shops. Private shopping sessions, bespoke interior design and in-home consultations are some of the services guests can experience, as well as a virtual showroom with OLED technology that depicts Lalique interiors in various settings. A curated selection of jewelry, fragrance, homeware, and limited edition works by Damien Hirst, Arik Levy and other preeminent artists will also be on sale.
"We are thrilled to have an opportunity to re-introduce the Lalique brand and offer a modern luxury client experience," says James Mun, chief executive officer of Lalique North America.
Lalique, 9700 Collins Ave., Bal Harbour; 561.631.5442; lalique.com; @lalique
This story comes from our Winter 2021-2022 issue. Read more here.