Home Design Showcase: In Good Taste
As modern floor plans have brought the kitchen out into the open, it's no longer just a place for meal prep, it's the hub of entertaining. Here, experts nourish us with advice, ideas and style inspiration to feed your mind—and your company!
Design by Jorge Castillo; kitchen from Valcucine featuring two-story Macassar ebony wood panels, glass cabinets and countertops and matte white-oak bar; appliances by Sub-Zero and Wolf; Lucite bar stools from Janus et Cie; School of Light pendant from Terzani Lighting - Photo by Ken Hayden
Designer's Take
Product Placement
The kitchen is the undisputed focal point of the home, and for those who crave comfortable living in an open format, it's entirely appropriate to position your kitchen smack-dab in the middle of your common living spaces. Miami-based designer Jorge Castillo is recognized for creating interior environments that meld cutting-edge design with an original, stylish flair—and this kitchen, which features an oversized smoked glass island with a protruding slab of glossed maple, is no exception. "This kitchen is intentionally placed in the center of the house to encourage meaningful, memorable gatherings," says Castillo. "It's an enticing and chic 'room within a room.'" Jorge Castillo Design, 265 NE 59th St., Miami; 305.830.9989; jorgecastillo.com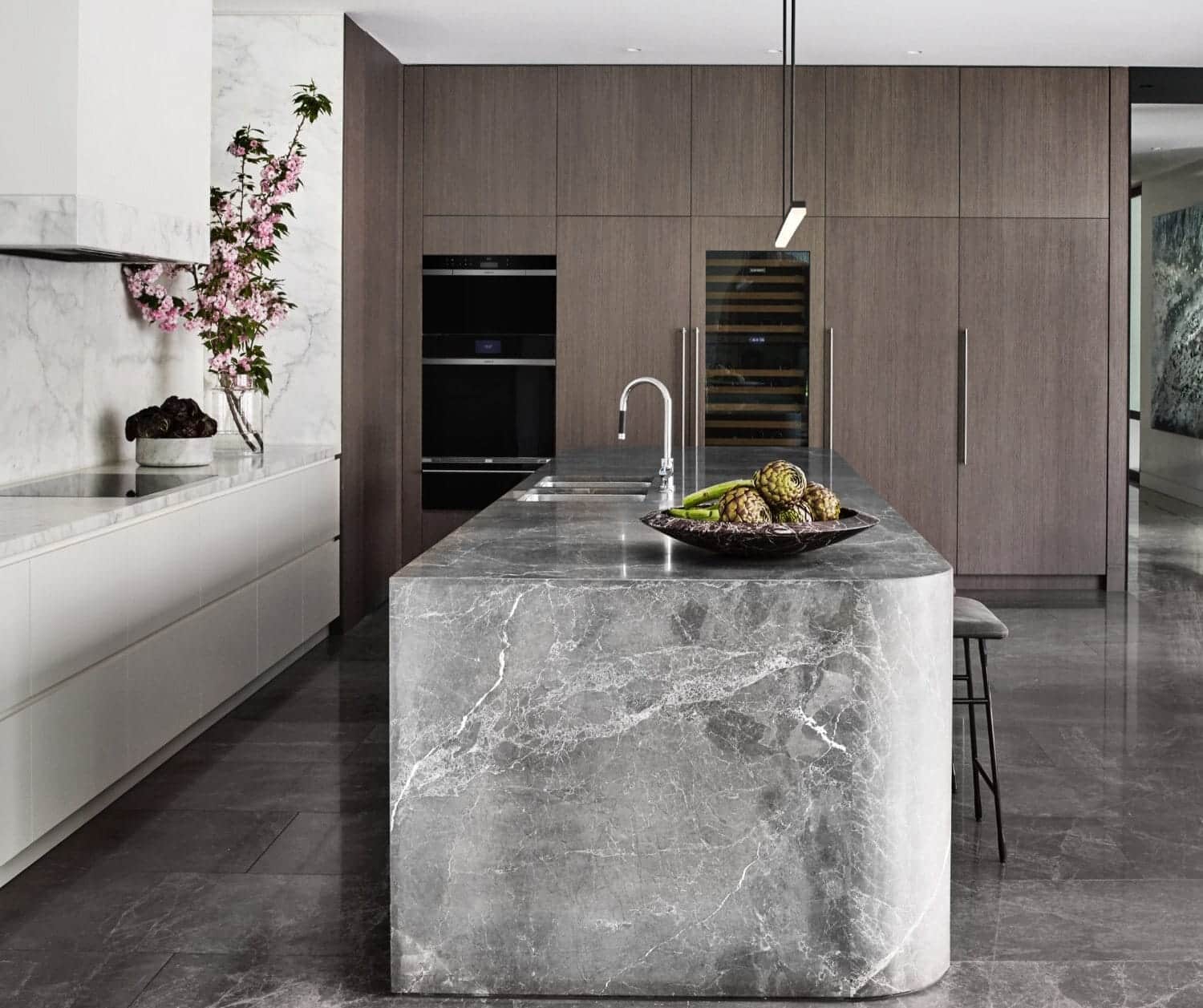 Ignite Your Passion
No matter how stunning the design, a kitchen is simply not complete unless it has the best and most state-of-the-art appliances. But with hundreds of options from which to choose, the selection process can be difficult. Let the experts at Ignite Appliances be your guide, as they have a combined 30 years of experience specializing in luxury kitchen appliances, from stovetops and ovens to refrigerators, wine coolers and much more. With an impressive selection of styles from the top brands in the industry, including Sub-Zero, Wolf and Cove, JennAir KitchenAid, LG, Maytag and many others, you'll be sure to find the perfect appliances to suit your kitchen needs. Ignite Appliances, 3305 NW 79th Ave., Doral; 305.456.8283; ignitemia.com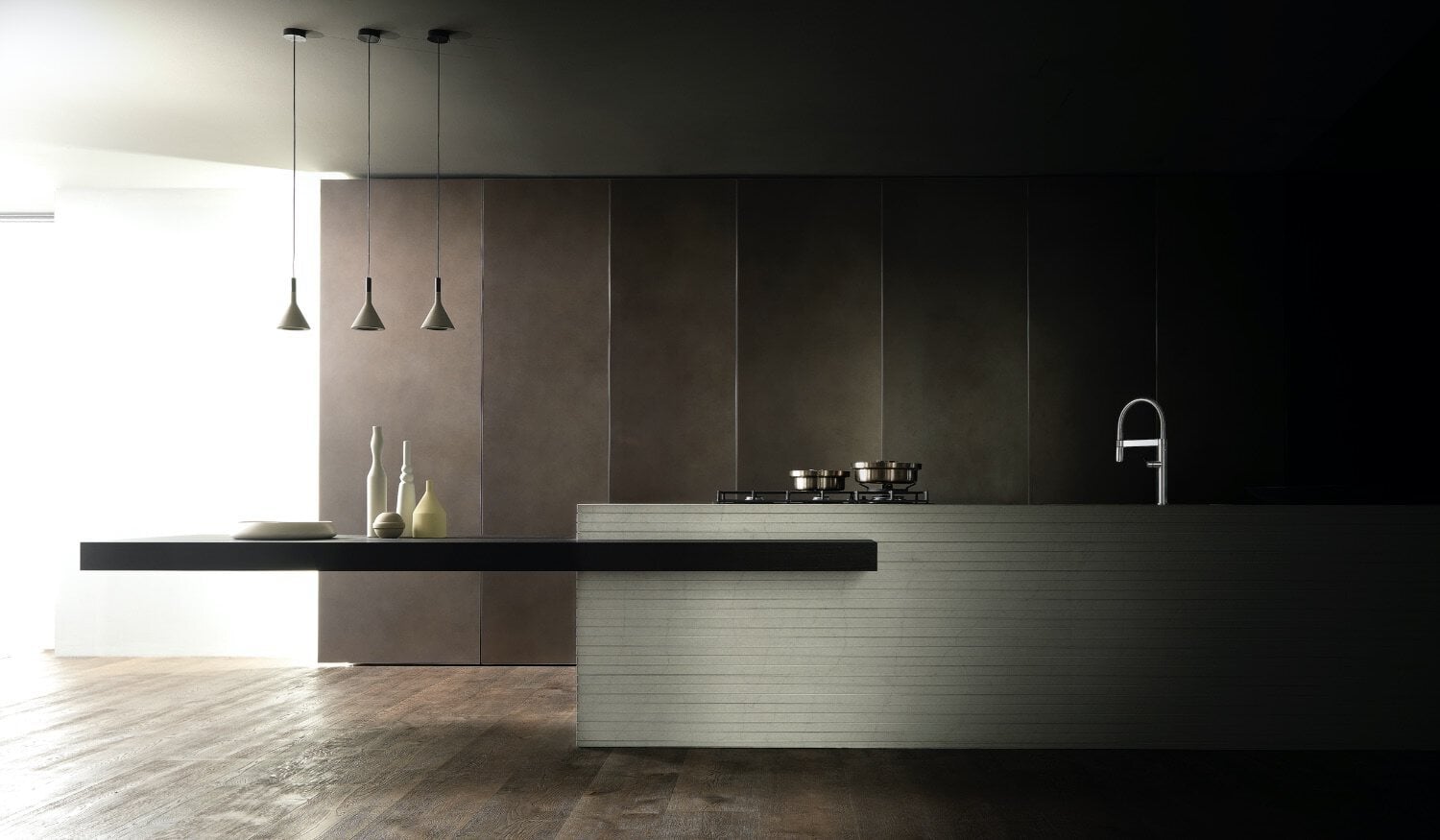 Gather 'Round
MiaCucina is a Miami-based interior design firm offering a complete range of fine Italian furnishings with full service from design to installation. "The Italian companies with which we're partnered are innovators in their fields and continually achieve excellence in design and production," says owner Mark Murphy. "Our showrooms continue to be the largest of their kind, and our displays are frequently updated to reflect the most recent trends and technology." 
Murphy sees "gravity-defying" islands trending for 2020 and beyond. For example, in this inspired composition of Modulnova's Blade line, which features a seemingly floating wood table, stately stone and warm bronze metallic, the functional elements of the kitchen recede to reveal more space and create circulation. "These days, we tend to congregate in the kitchen," Murphy says. "With a design like this, people can gather on one side of the island while preparations can be done, unimpeded, on the other." MiaCucina, 20385 Biscayne Blvd., Aventura; 105-107 Miracle Mile, Coral Gables; 3650 N. Miami Ave., 2nd Floor, Miami; 305.792.9494; miacucina.com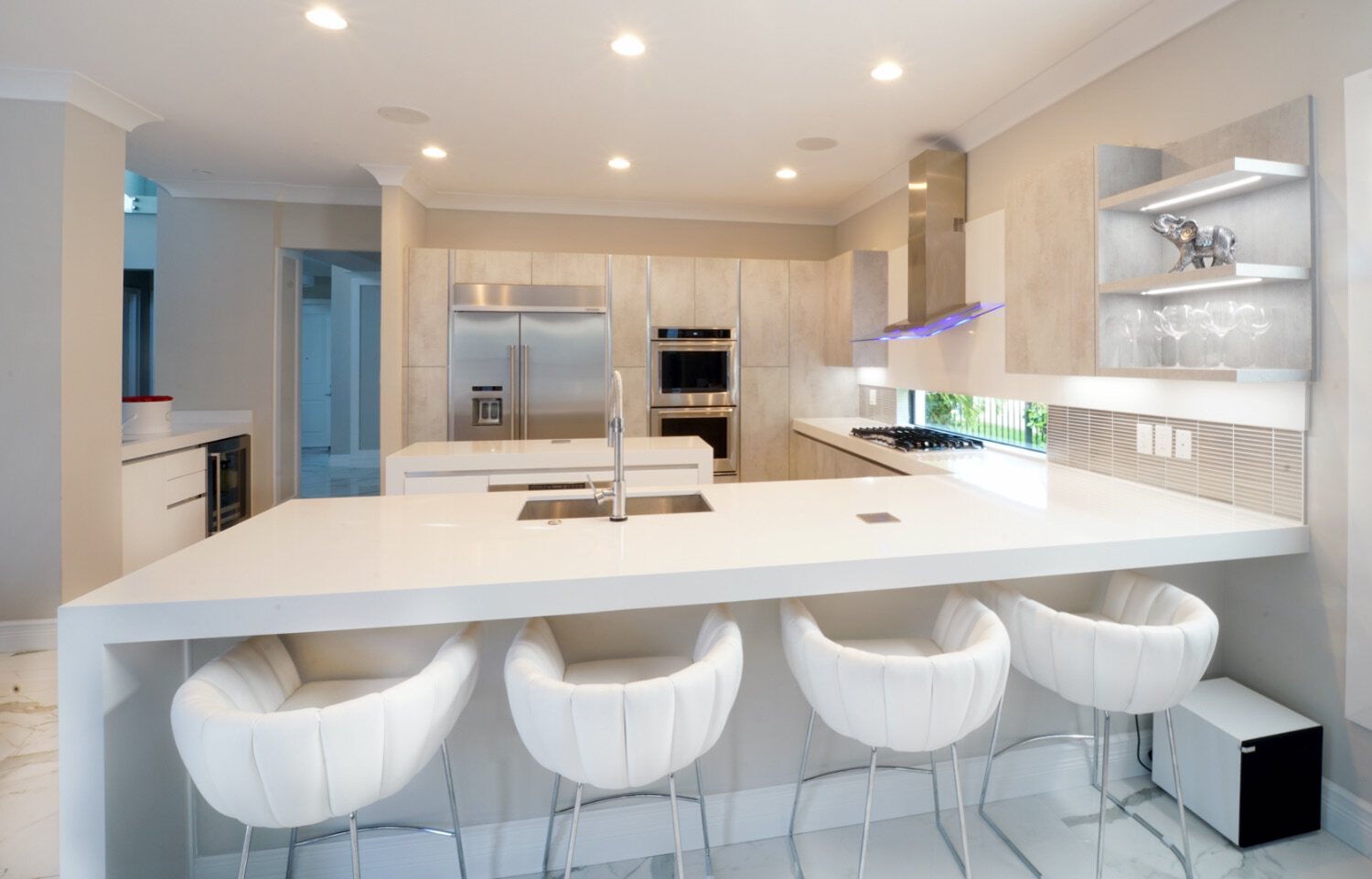 Right Before Your Eyes
Having food prepared while family members watch, or even join in, has become the new standard of modern dining, and this calls for kitchens that encourage togetherness. "Kitchens are no longer hidden from the guests; they are now the center of the home for family, social activities and entertainment," says Gaby Silva, senior designer for Italian Kitchen & Bath, where kitchens are designed with incomparable Italian style and personalized service is paramount. 
Determining the look and functionality of a kitchen requires a fair amount of "getting to know you," a practice in which Italian Kitchen & Bath excels. "We take the time to ask every client about their lifestyle—who does the cooking, whether there are kids in the family, how they utilize the space," says owner Gilbert Ouaknine. "Then we assess the space and determine the best layout and design to suit their needs." Italian Kitchen & Bath, 3305 NW 79th Ave., Doral; 305.363.7717; italiankb.com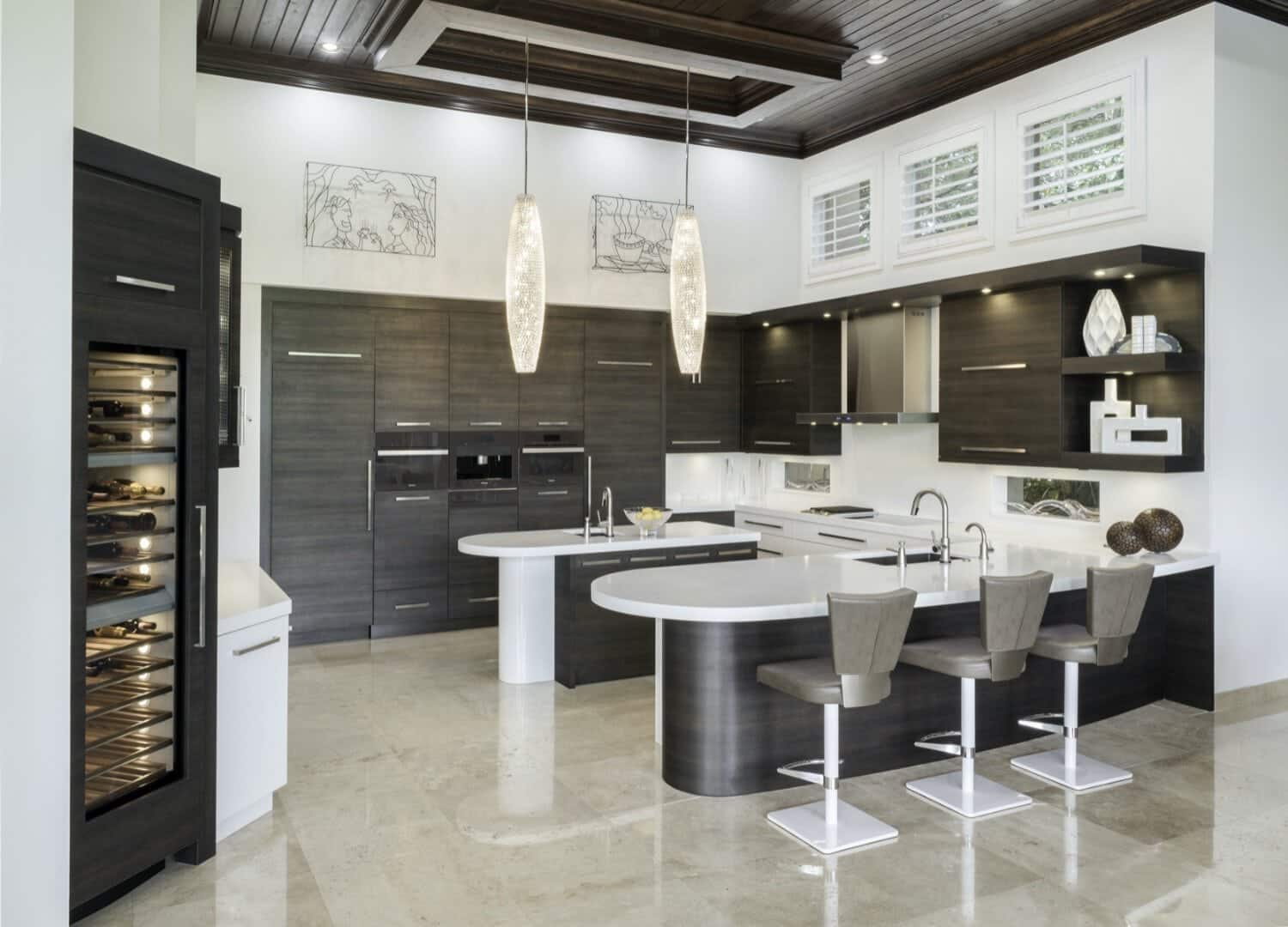 The Big Finish
When it comes to your kitchen cabinetry, Jacques Normandin, president and owner of Canam Cabinets, which specializes in unique and custom cabinetry, suggests creating contrast to add interest. For the kitchen pictured below, for example, the finish of the cabinetry creates the perfect balance between dark and light. "Considering the fact that we had a light floor, a light wall between the cabinets and a dark ceiling, dark cabinets were used," Jacques explains. "The white countertop contributes to the open look and achieves depth and dramatic dimension. All of it is enhanced by the creation of a mini soffit with projecting LED lights." Canam Cabinets, 2800 NW Boca Raton Blvd., Boca Raton; 561.750.3177; canamcabinet.com