Ten Years of Few & Far Women
October 9, 2021 - 5:00 pm

-

10:00 pm

Free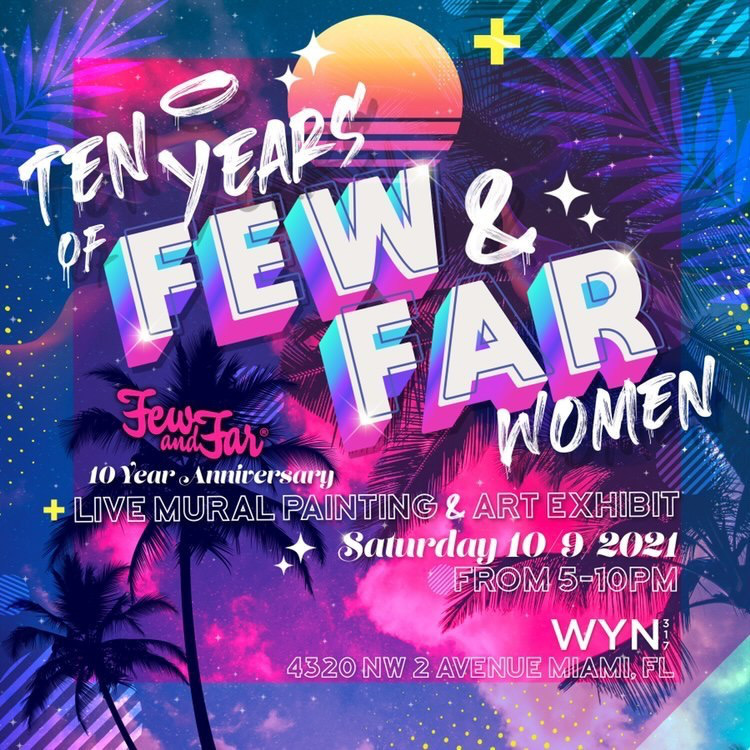 YOU'RE INVITED!
This October, "Few & Far Women", the international crew of women street artists, graffiti writers, and skateboarders will be celebrating their ten year anniversary in Miami, FL!
Since its early beginnings back in 2011, Few and Far has worked hard to bring women together, uplift communities, empower women, educate youth, and create positive change through their art on the streets. Their work has been extremely impactful to those they have interacted with: through organizing mural productions, exhibitions, and other events, to building connections and creating inspiration through social media.
Whilst the crew will continue this important work, it's also time to celebrate how far they have come and what they have achieved over the last 10 years. They are especially excited to be celebrating this milestone anniversary this year in Miami!
It has been exciting to see how many women are finally finding their place in the world of street art, skateboarding, and other alternative industries. This crew believes that as our world evolves and as we grow it is important to continue promoting ideals of unity, sisterhood and respect while working to bring art to our streets.
FNF is proud to have partnered with Michele and Danelle Pino, owners of Wyn 317 Gallery to celebrate their ten year anniversary. This October, in Miami they will be painting murals around the entire exterior of the gallery as well as producing an exhibition inside!
WHY: To celebrate ten years of Few & Far Women!
WHO: Few & Far Women with Michele and Danelle Pino of Wyn 317 Gallery.
WHAT: An exhibition of artwork displayed inside of the gallery, as well as murals painted on the exterior. The event will feature DJs, live performances, food, drinks, and more!
WHERE: Wyn 317 Gallery (4320 NW 2nd Ave Miami, FL 33127)
WHEN: Saturday, October 9, 2021
Few and Far Women is a crew of female street artists, graffiti writers, and skateboarders from around the world. The crew was formed in 2011 by Meme, a graffiti writer originally from Grass Valley, California. Since the start of the crew, Meme with help from Ursula X Young, and the FNF board members have moved the crew from its loose beginnings, into a full organization, now with 23 members from all around the world.
For the last ten years this group has organized large-scale mural productions, community projects, and events in various countries including India, Japan, Cuba, Mexico, France, Spain, Canada and Indonesia, as well as cities all around the US. Each crew member is an independently successful artist, each bringing her own story, experiences and background to each event. They come together as often as possible, from around the globe to paint, skate, and organize, with a specific focus on women empowerment.
This past year Few & Far officially became a non profit organization allowing their positive community work to have a further reach, and open up more opportunities as they organize and plan for exciting projects in the years to come.
For more information, please visit https://www.fewandfarwomen.com
Wyn 317 was started by sisters Michele and Danelle in July of 2013 in the Wynwood Arts District of Miami, FL. Michelle and Danelle were working in entirely different industries before they opened their gallery together: Michele was an Assistant Regional Counsel and Danelle was in nursing school. The two women developed a passion for art from their father, an attorney who loved to paint. It was a trip to London however, that inspired their first pop-up gallery in Wynwood. That one time pop-up gallery ended up lasting for 5 years! Now they are in a new location, just north of Wynwood in the Little Haiti neighborhood where they have been since 2018.
This gallery is well known in the Miami area for exhibiting some of the city's most cutting edge local artists, whilst both building local connections and elevating the contemporary artists Miami is known for. They also feature international artists that strike a chord with Miami's rich & diverse underground art culture.
Few and Far has actively been painting murals in Miami for the last decade, in fact the second Few and Far mural production happened in Miami in 2011! The Few & Far walls continue to be the largest female mural production to have ever happened in the Wynwood Arts District.
For more information, please visit https://www.wyn317.com
Currently, the crew has three large walls on the west end of Wynwood. For the last few years they have come together to paint in this area during Art Basel week. Last year, in 2020, they produced their largest production in Wynwood to date, featuring crew members and guest artists for a total of 26 women from across the country!
For more information about our activity in Miami, and Wynwood in particular, check out https://spark.adobe.com/page/mDpIHhIkUj7pn/