SMArtWalk Hosted By Sistrunk Marketplace & Brewery
March 27 - 6:00 pm

-

9:00 pm

Free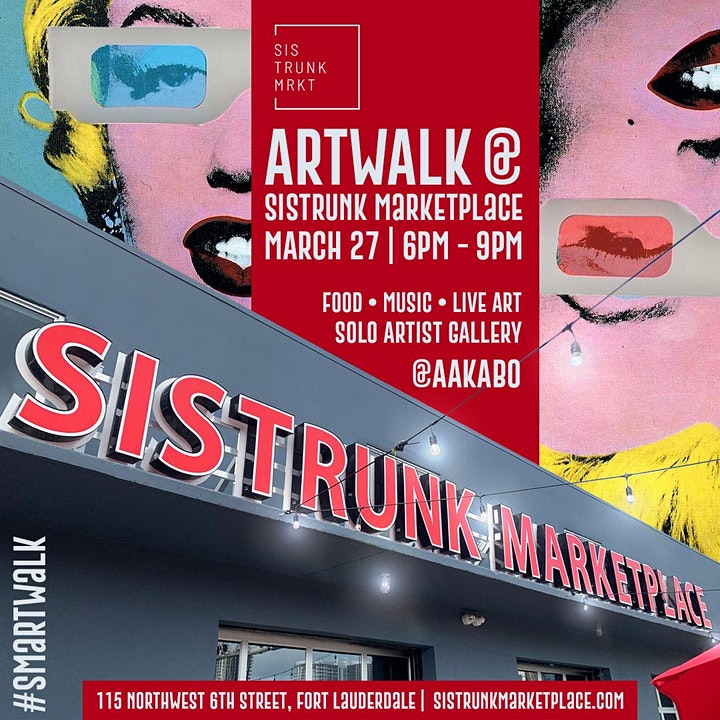 • Celebrate the Arts Community of Greater Fort Lauderdale during SMArtWalk at Sistrunk Marketplace & Brewery.
• Sistrunk Marketplace & Brewery will participate in ArtWalk and celebrate the Arts Community of Greater Fort Lauderdale by showcasing one Fort Lauderdale artist on the last Saturday of every month throughout the year.
• The Art Show will take place at the Club Soda Lounge inside Sistrunk Marketplace & Brewery and will feature specialty cocktails highlighting each artist of the month.
• During the month of March, guests will be greeted with 3D Blue/Red Glasses that accent and highlight the art pieces created by featured artist AAKABO.
• AAKABO (Aaron Bodden) is a talented and versatile stencil and mixed media artist, whose work ranges from small canvases to large murals nationwide. Originally from Belize, he now calls Fort Lauderdale home.
• In anticipation for the event, Sistrunk Marketplace & Brewery will be serving two specialty red and blue cocktails from Wednesday, March 24 through Sunday, March 28.
• Plus, all of the art displayed will be available for purchase.
• Sistrunk Marketplace & Brewery is a proud supporter of the growing Fort Lauderdale art community and monthly art walks located in FAT Village.
ADDITIONAL DETAILS:
Live music will be performed on Thursdays from 6:30 p.m. – 10:30 p.m., Fridays and Saturdays from 7:00 p.m. – 11:00 p.m., and Sundays from 2:00 p.m. – 6:00 p.m.
About Sistrunk Marketplace & Brewery
Sistrunk Marketplace & Brewery is the first Food Hall concept to launch in the hip, arts district in Fort Lauderdale, FL. The 24,000 square foot property includes several private and shared event spaces, a DJ and production music academy – Wired Sound Academy, a co-op style retail boutique – SistrunKollective, a brewery – Khoffner Brewery, a large, full-service wine and liquor bar, ample seating and 12 food vendors. Food vendors and concepts featured at the Sistrunk Marketplace and Brewery include: Bean & Rose Coffee, The Chop Shoppe, The Empanada Bodega, Fuoco Roman Pizza, Hot Lime Craft Tacos and Ceviche, Kasai + Koori Asian Deserts, Needa' Pita, Nellie's Country Kitchen, OSOM Crepes, Sushi OG, Poke OG, and Senbazuru Ramen. Sistrunk Marketplace & Brewery was conceptualized and brought to life by Steven Dapuzzo, of Society 8 Hospitality Group, a full-service restaurant and events company. Dapuzzo is a culinary expert who has launched several successful restaurant concepts including SoLita, Beauty & the Feast, Park & Ocean and Wild Thyme Oceanside Eatery, the signature restaurant located in The Atlantic Hotel & Spa. For more information about private events, food vendors, the music academy, distillery or the brewery, please visit sistrunkmarketplace.com, or follow Sistrunk on Facebook and Instagram at @sistrunkmarketplace.
Related Events