Laughs on Lincoln features premier stand-up comedy, showcasing touring feature and headlining acts from South Florida and beyond
April 27 - 7:30 pm

-

10:00 pm

$15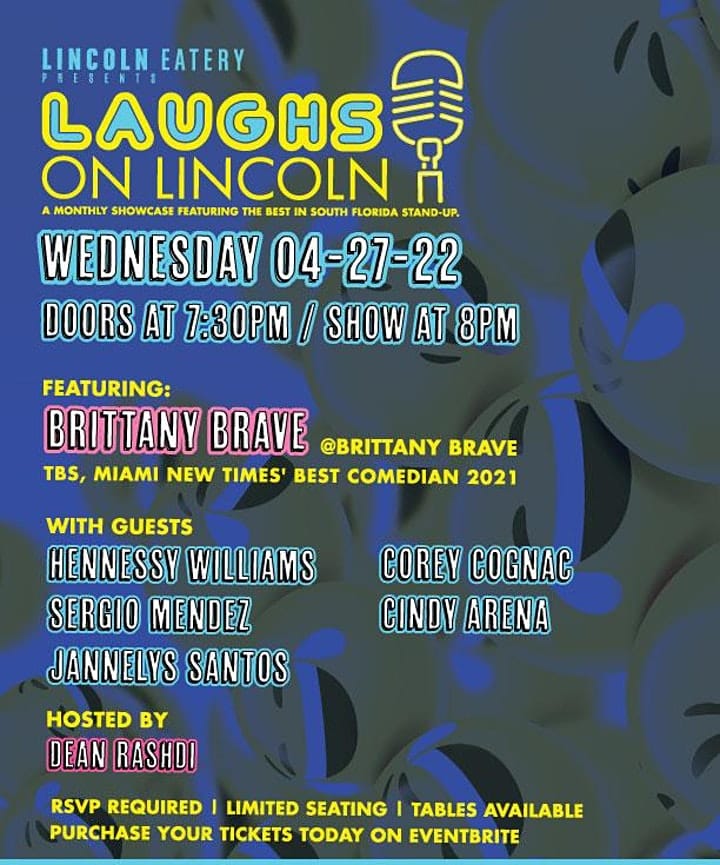 Laughs on Lincoln is Miami's premier stand up showcase. Blending comedy, food and drink, music, art, nightlife and more, the show has been lauded by the Miami New Times and TimeOut Miami as a must-see event and is produced by and features Miami's Best Comedian of 2021, Brittany Brave (TBS, MTV, SiriusXM.)
It's more than just a comedy show, it's an experience.
Miami is undergoing a comedy renaissance with the scene tripling in size and frequency in the last year. Against the odds of the pandemic, Miami comedy is now on the map in a brand new way given talent from LA, NY and beyond relocating here as well as tons of new mics, showcases, rooms and opportunities that have been created in the past year.
Featured comics include:
• Brittany Brave, Miami New Times Best Comedian 2021
• Hennessy Williams
• Sergio Mendez
• Jannelys Santos
• Corey Cognac
• Cindy Arena
• Hosted by Dean Rashdi
Comics have been featured on TBS, American Idol, MTV, SiriusXM, NBC and more.
Related Events