fashion@brown presents "Award-Winning Costume Designers Shaping Fashion in Film"
March 13 - 2:00 pm
Free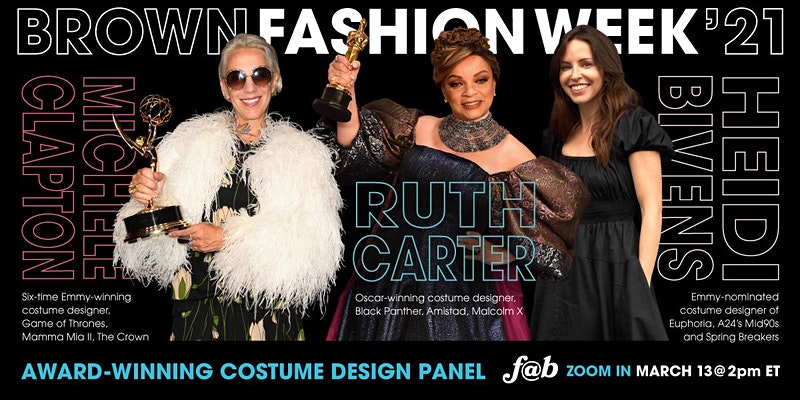 Costume Designers Michele Clapton, Heidi Bivens, and Ruth Carter discuss their work shaping fashion in some of the biggest titles in film.
F@B chats with the award-winning Costume Designers who are shaping fashion on film and television from Euphoria to Black Panther, Game of Thrones and Mamma Mia II, and more.
If watching a film is simply our willingness to suspend disbelief, then costume design has the power to make or break that illusion. It can control how we view characters and how they exist within their environments. It shapes how characters grow and are perceived. No matter what film fashion appeals to your taste, come join us to hear from Michele Clapton, Ruth Carter, and Heidi Bivens on their experiences within the fashion and film industries as well as their processes, inspirations, and ambitions. Their work spans across all different genres, be it Clapton's Game of Thrones and The Crown, Carter's Black Panther and Malcolm X, or Heidi Bivens Mid 90s and Euphoria.