fashion@brown presents "A Conversation with the World's Foremost Fashion CEOs"
March 8 - 12:30 pm
Free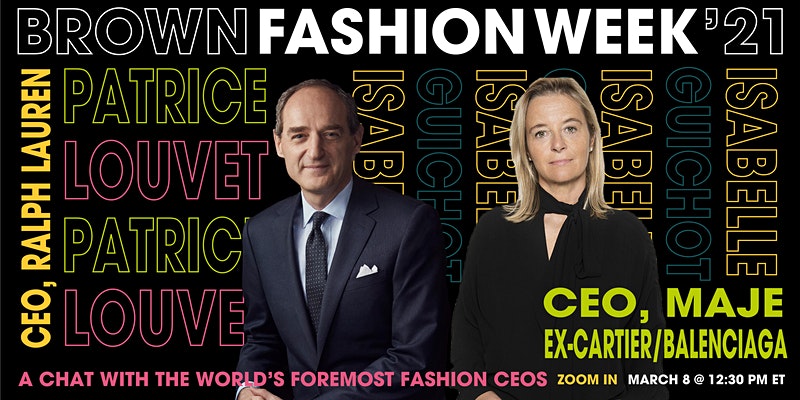 Patrice Louvet (Ralph Lauren) and Isabelle Guichot (Maje) explain what it takes to become – and remain -powerful, influential CEOs.
Whether you're interested in fashion or finance, business or beauty, if you have high ambitions, tune-in to learn what it takes to become, and stay, CEO — because from Fiji to France, Gucci to Gillette, there's no country or company these two powerhouse CEOs haven't covered.
Isabelle Guichot, head of the chic Parisian fashion house Maje and former CEO of the renowned luxury maisons Cartier, Van Cleef & Arpels, and Balenciaga, joins Patrice Louvet for a dynamic industry leader fireside chat. As CEO of Ralph Lauren, who recently dressed Joseph R. Biden Jr. for the presidential inauguration, Patrice leads a multi-billion-dollar company that continues to expand every day, backed by his extensive experience running Proctor and Gamble's global beauty and hair care as group president of the company.