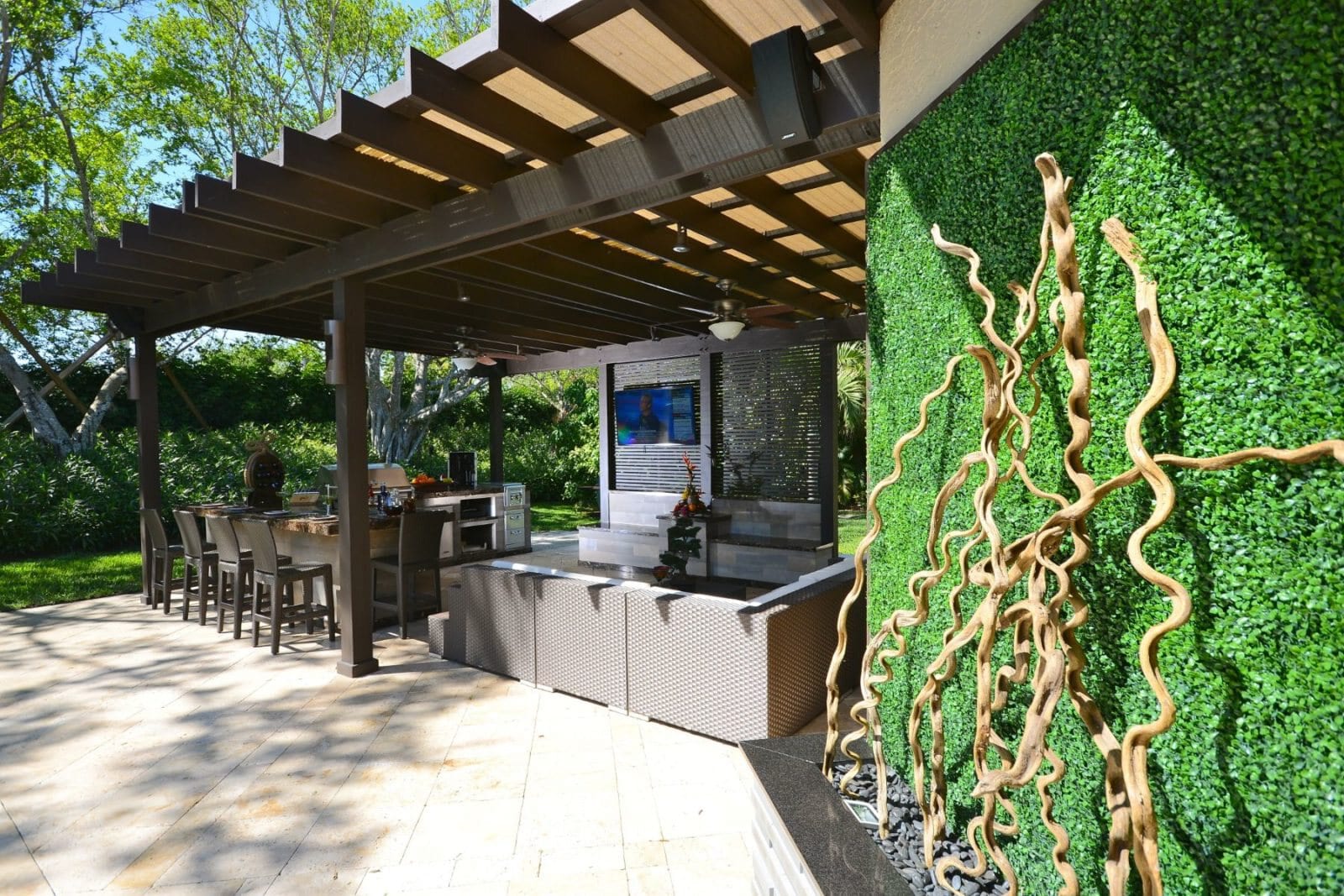 Outdoor design by The Patio District, Luxapatio and Zensa Design
It's a wonder how he manages to keep it all straight, but Felipe Londono is without a doubt one of the most knowledgeable and talented "outdoorsmen" we know. With three flourishing businesses in his charge, Londono is fluent in South Florida's outdoor living vernacular. Here, he educates us on how to make our external environments as purposeful and picturesque as can be.
Throwing Shade
It's South Florida. It gets hot, the humidity can be off the charts, and the forecast changes by the moment. So how do you design an outdoor space that adequately shields you, but is also beautiful? The Patio District has the answer, and it comes in the form of custom-designed, constructed and installed pergolas, available in any style, size or material that suits your needs. "Pergolas offer an aesthetic enhancement, as well as provide much-needed shade," says Londono, who also praises retractable and louvered roof systems, which give you control as the weather shifts. The Patio District, 3305 NW 79th Ave., Doral; 786.518.2307; thepatiodistrict.com
Cooking Alfresco
An outdoor kitchen is a true luxury, and no matter the size of your space, having one is within reach. "Figuring out your layout is important," says Londono, who designs outstanding custom outdoor kitchens under his company Luxapatio. Before considering your space, think about how it will be used. Will it be a bar for hanging out, a place for barbecuing or a full dining area designed for multicourse meals? If your space is vast, the sky's the limit, but don't be daunted if space is limited. "I love designing for smaller spaces," says Londono. "It's more challenging creatively." Luxapatio, 3305 NW 79th Ave., Doral; 305.477.5141; luxapatio.com
Vertical Gardens
Just as there's "a cover for every pot," there's a vertical garden for every plant lover, and Zensa Design is dedicated to helping you find an innovative vertical garden display that fits your needs. "The one you choose is mostly dependent on how much time you want to dedicate to maintenance," says Londono, who outlines the choices and explains the various types of vertical gardens below.
High Maintenance: With contemporary looks being so prevalent in design these days, traditional vertical gardens are a smart way to introduce nature and natural elements to a home, though they do require constant attention and a full irrigation system.
Low Maintenance: Moss normally grows in damp conditions, but through an adaptation process, it can now be hung on a wall as a vertical garden. This design requires minimal maintenance, comes in tons of color options, absorbs odor and helps purify the air. Moss tends to dry out with time, but spritzing it with a water bottle once a month will keep it thriving.
No Maintenance: Artificial vertical gardens require no maintenance whatsoever. They create a simple, clean and elegant green wall, and the plants look so real, you can hardly tell the difference.
Zensa Design, 3131 NW 79th Ave., #5, Doral; 786.615.5790; zensadesign.com