Artist Spotlight: Lara Restelli
Everybody Needs a Rock. Who or What Is Yours?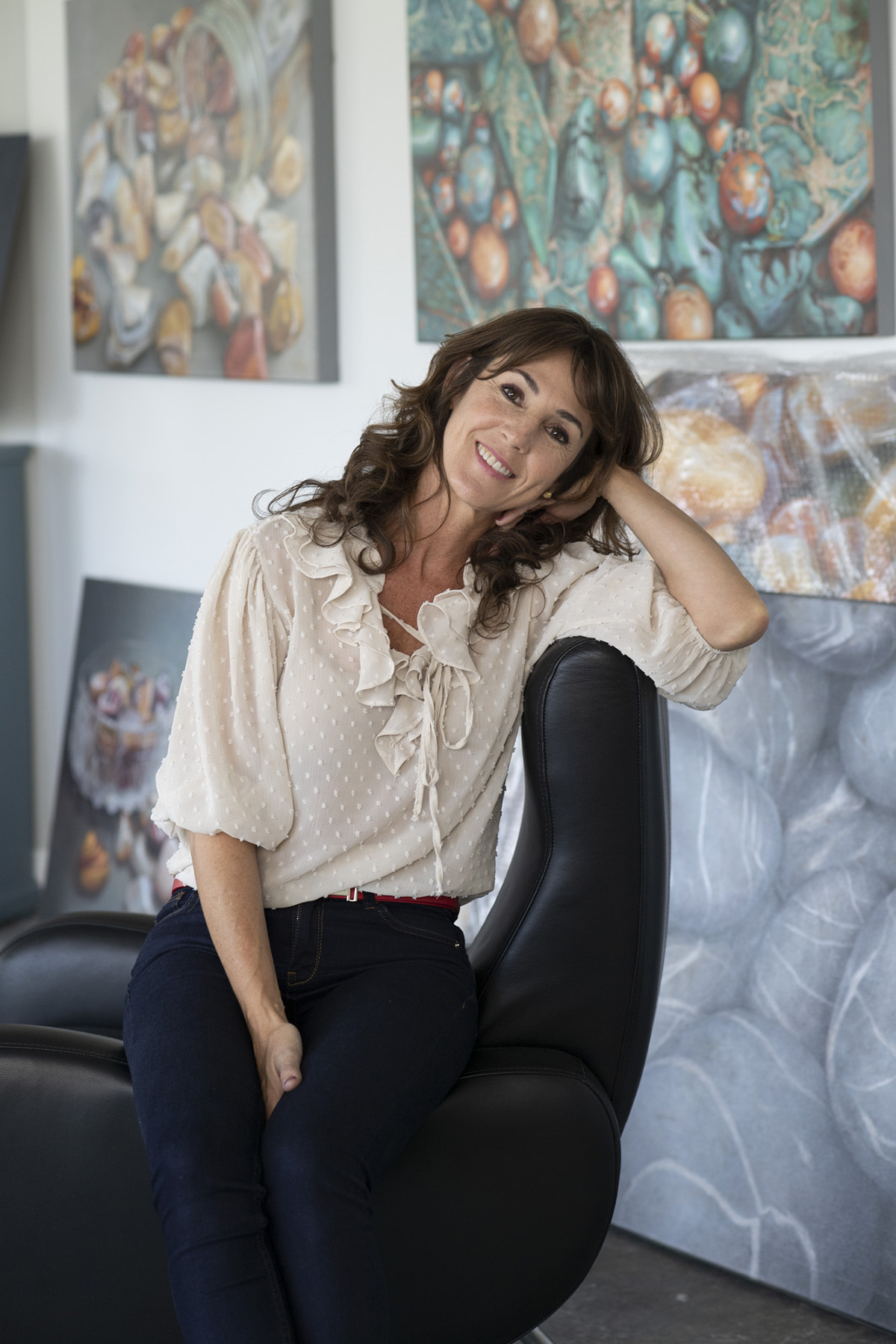 Lara Restelli (Photo by Veronica Ruiz Russo)
When I first learned about the series Everybody Needs a Rock by artist Lara Restelli, my immediate translation was to think of when we are faced with life's inevitable challenges and how important it is that we all have a "rock"—someone or something to lean on and lift us to keep going. After speaking with Restelli and learning about her inspiration and meaning behind the title, it gave me goosebumps.
After many years of purchasing art from an aesthetic point of view, for the first time I had connected with art on a deeper, emotional level—something I always admired but never really understood that art aficionados do. It gave me a newfound appreciation for art, and artists and art enthusiasts alike. What I find fascinating is how we can all be looking at the same configuration, but what appears on the other side of our visual lens can mean something unique to each one of us. I spoke with Restelli to learn what inspired her to do this series and its meaning to her.
In 2001, Restelli and her husband, Carlos Melo, moved to Miami from Argentina to expand the legacy of their successful 50-year-old construction company. Shortly after, she was pregnant in a new city—a new home, leaving everything behind that was familiar to her. She openly shares that she joyfully spent many years as a loving wife, mother of two, daughter and friend. And while she was living a happy and fulfilled life, it was evident that while her world felt so complete, there was one thing missing: her rock, her own identity. She found this in her passion and love for art, and so her journey continues.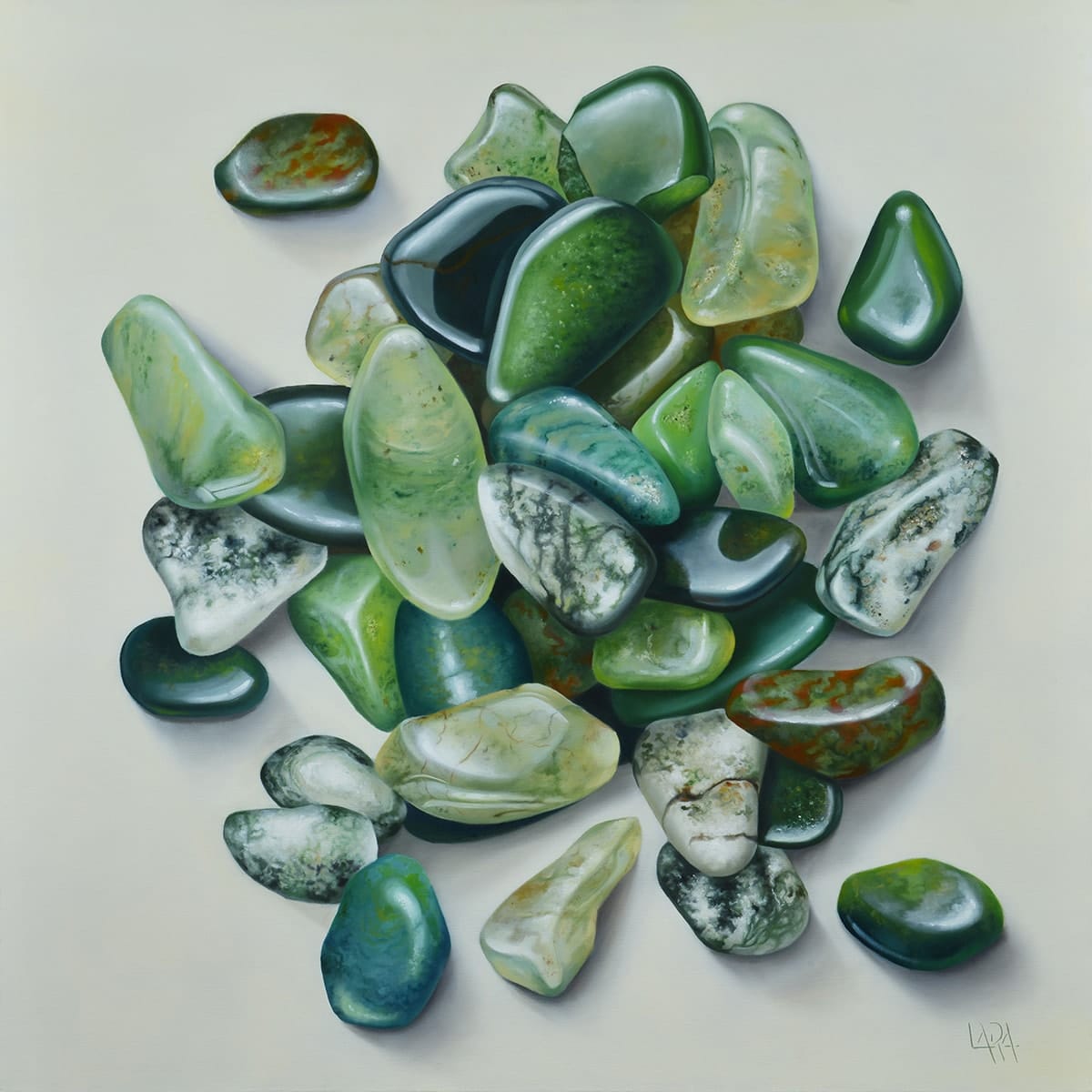 How long have you been creating art? I have been painting for 14 years. I started exploring painting as a creative activity to connect to my inner self and disconnect from my everyday duties and worries. As my children got older, I started finding more time for myself and my painting. It was then that I realized that I had an innate passion and talent for the arts. I spent 10 years perfecting my skills and abilities as a painter, only to discover that painting is what I want to do for the rest of my life and that you never finish learning.
Did you go to school for art? I was not interested in pursuing a bachelor's degree in art when I started this journey. Instead, I decided to explore different painting styles and attended various schools in Miami. That is, until I discovered a classical European atelier run by the renowned realist Spanish painter Alberto Pancorbo. I spent the last eight years of my education perfecting my oil painting technique within the classical school of realism. I have also spent a year at Miami International Fine Arts to develop my drawings skills further.
Would you say you have an innate talent for art? Yes, it came easier to me than other people, but my talented teachers enhanced my skills.
Can anybody learn how to paint? Absolutely! I believe anyone can learn to draw and paint if they have a passion for it. They just need the right teachers. How far they want to go with that skill set depends on their commitment to it.
Tell us about your style of art. I am a classically trained realist oil painter. I describe my work as contemporary realism—it is figurative and incredibly detailed with a modern twist.
What does your artwork mean to you? My art is my rock, that special thing that means the world to me. It is my identity, my sense of self, my way to recharge my soul.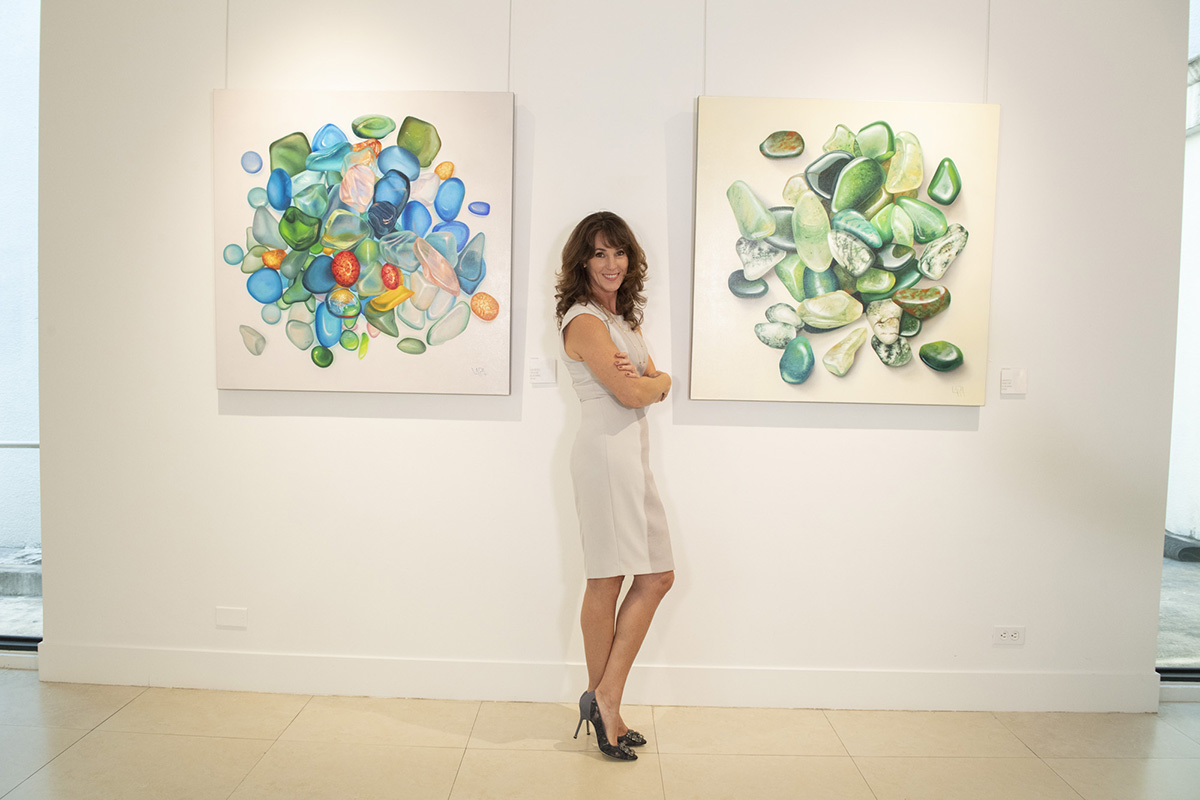 Describe your inspiration behind the series Everybody Needs a Rock. The first painting of rocks was the result of the exploration of reflective surfaces. I found a photo of beautiful river rocks that captivated me, semi-submerged in water with many reflections and colors. I didn't know that I would do a whole series about them at that time, but that one painting opened an entire universe of possibilities. Rocks are fascinating—their many characteristics, colors, sizes, shapes and textures allow different expressions and interpretations. They bring endless creative opportunities.
How did you come up with the title of your series? A friend of mine felt compelled to gift me a book as soon as she saw one of my early works, a book for children called Everybody Needs a Rock by Bird Baylor. The book empowers children to come up with ways to find their special rock. The author is very particular about enforcing that nobody can help you pick your rock, it must be your own unique special thing. If we translate that notion into our daily lives, we all need to find that special rock. That thing that is unique to you and turns into your identity. For me, that's my painting. Nothing ever sounded more appropriate than this title for my new series.
Does your Argentinian background influence your work? Certainly, but not in a literal way. However, my background is who I am and who I am is inevitably revealed through my paintings. I paint from the heart, and my heart is where all my experiences live.
Do you have a favorite time of day to create? I definitely have to start my routine in the morning to have a productive day. Once the light changes and the sun goes down, it is time to clean my brushes.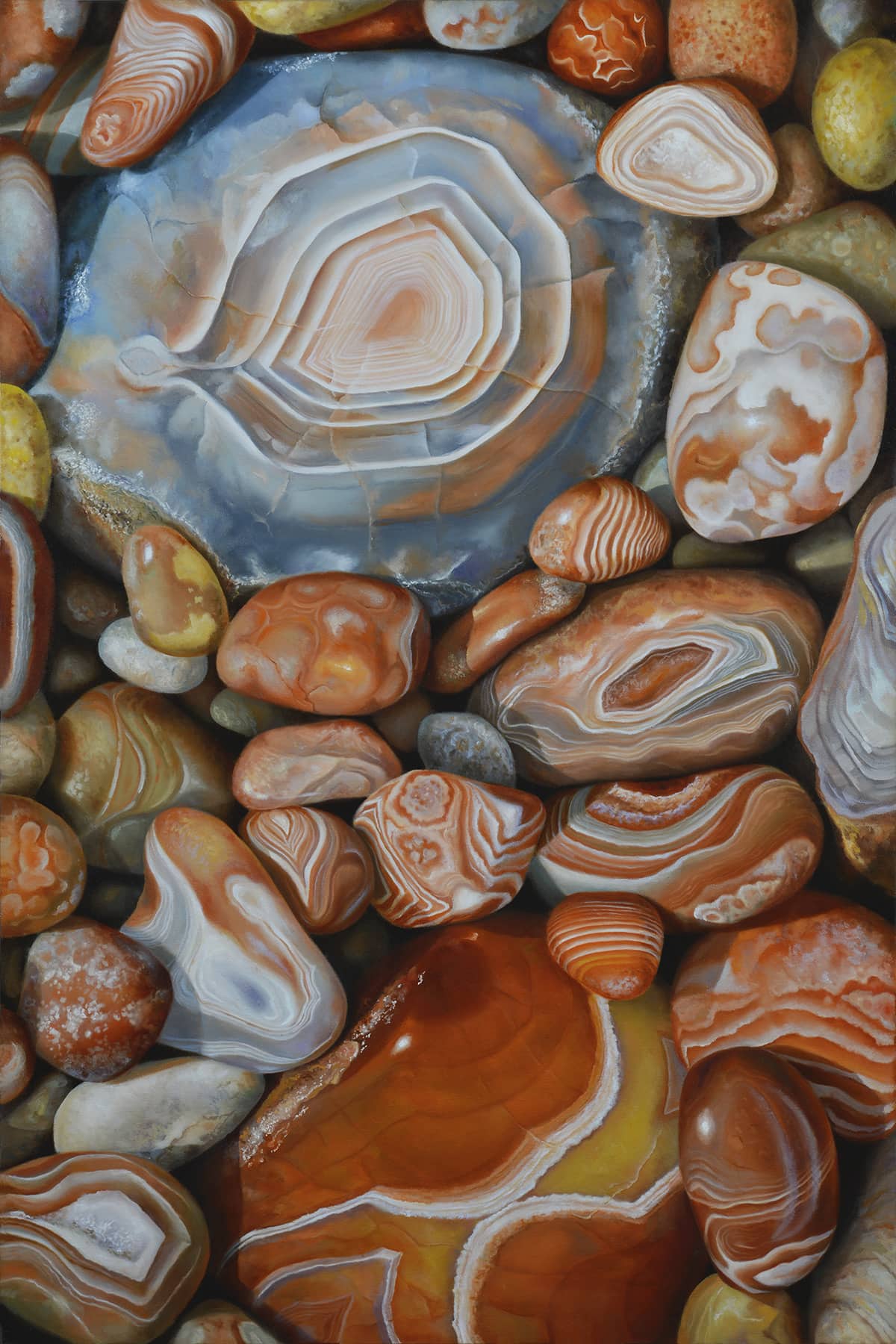 What inspires you to create? Inspiration can come from anything. It could be a moment looking out the window and seeing something that captures my attention and sparks an idea, or it could be observing other talented artists in their creative process that jolts my mind into my own creations.
Who are your biggest artistic influences? Why? Although I started my training copying and referencing works of the 18th and 19th-century masters, I later found many living masters of figurative art, living realist painters whose work will make your jaw drop. It wouldn't be fair to name only a few, and it would be too long of a list for this article to name all of them. But I was very happy to discover that beauty, purpose, talent and skills are at the forefront of their work and they're being recognized for that.
How do you think art is important to our society? Art, as a creative process, is vital for our well-being on an individual basis. What is good for an individual is good for society as a whole. I believe that everybody should practice some form of artistic expression, which does not necessarily have to be painting. We are all creative and curious by nature as children but get closed up in a box as adults. Creative and curious minds bring creative and new solutions to the world, which is vital to society.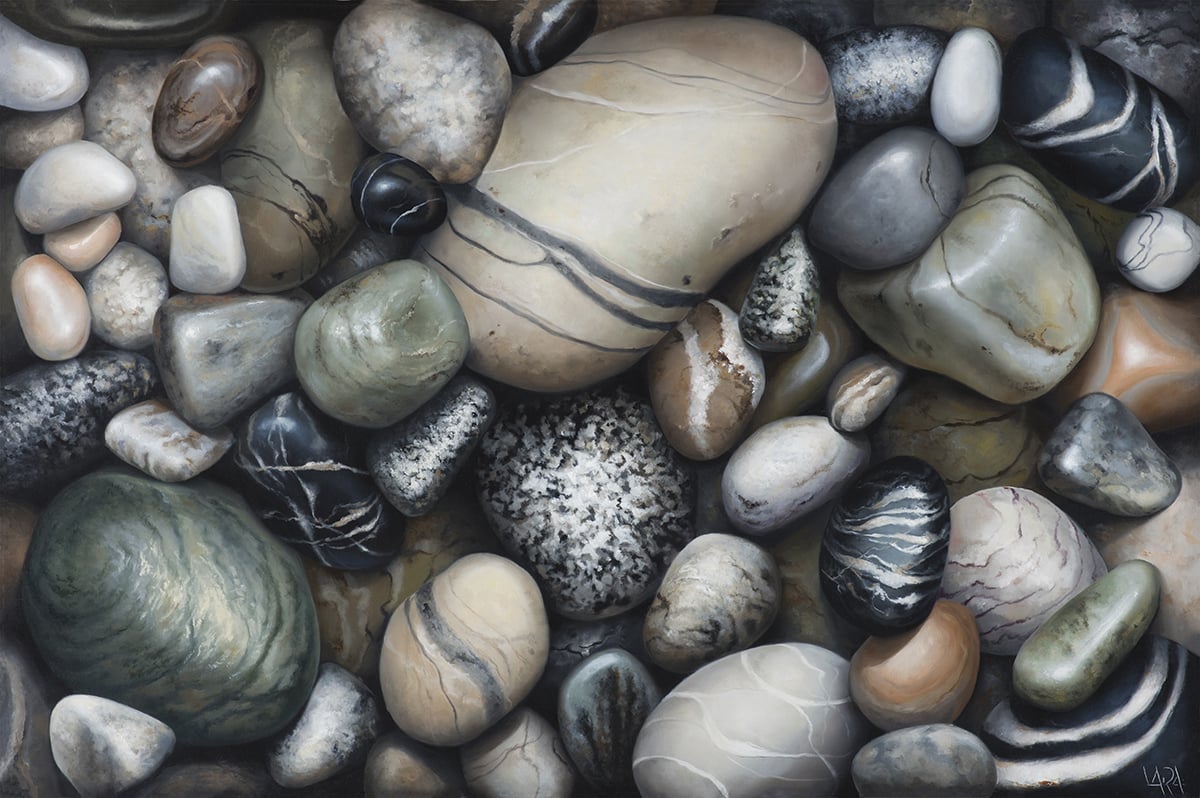 Do you think the younger generation is embracing art? Unfortunately, I think the younger generation is losing the "sense of wonder" that art ignites. They are devouring instant, already-processed, ever-changing information, which does not teach them to stop and appreciate the process behind the creation.
What shows have you exhibited at? I exhibited in many well-established art shows, including Red Dot Miami (during Art Basel Week), Art Palm Beach, ArtsParks Miami and Loyola School of the Arts Miami. I also have works displayed in private collections at Aria on the Bay, Melody, Square Station, Flagler on the River and Skyview.
Are you open to exhibiting at other venues? Absolutely. Part of loving what I do is sharing it with others and knowing that people enjoy what I have created. I strive to reach and connect with people that share the same love for art. Only then is my journey complete.
Any advice for our readers? Find your rock—something that is unique to you. It can be anything: a place, a person, a ritual or an activity that feeds your soul; something that gives you satisfaction, self-worth and self-esteem. This is particularly true among women, who are innate caregivers, and sometimes forget how important it is to take care of ourselves too.
What's next for Lara Restelli? Keep painting and keep evolving.
Lara Restelli Art Studio, 1818 SW First Ave. Suite #302, Miami; 786.426.2424; lararestelli.com; @lararestelliart
This story comes from our Winter 2021-2022 issue. Read more here.