With a professional tennis career spanning four decades and an unprecedented 59 Grand Slam titles, including a record nine Wimbledon singles championships, Martina Navratilova is considered one of the greatest players in tennis history—and one of the greatest athletes of all time. Now, the sports icon is using her racket to reignite a different passion: art.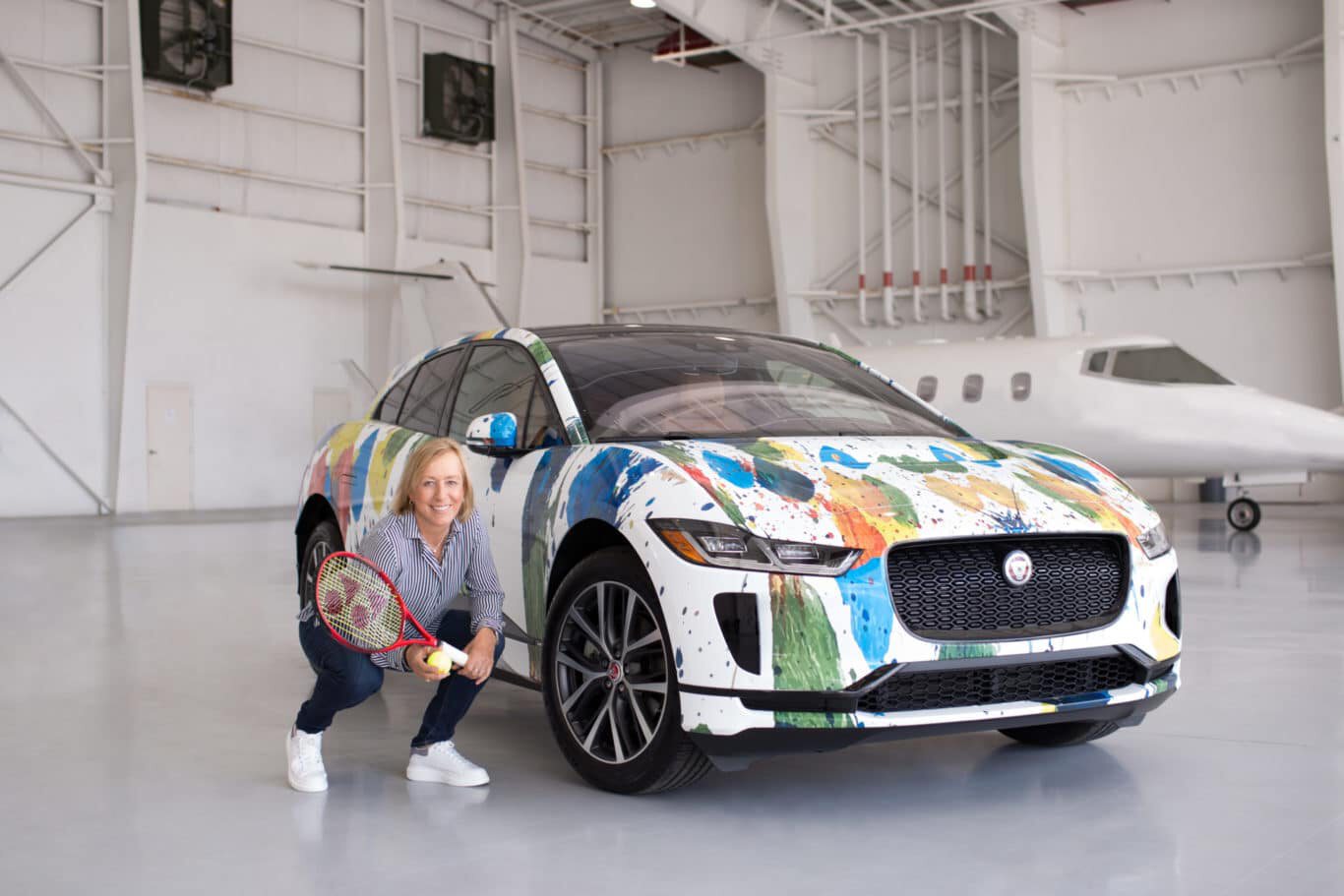 Martina Navratilova - Photo by Brett Hufziger
Just as in tennis, life introduces all kinds of unexpected bounces— some are favorable, others not so much. But for Martina Navratilova, there was one lucky bounce that led her to explore a newfound love in the world of art. That bounce came in 2000 when she was introduced to Slovak painter and sculptor Juro Kralik, who proposed an idea for an art collaboration using tools Navratilova has long been familiar with: tennis balls. We caught up with the tennis superstar to discuss the ongoing collaboration, how it has evolved, and that despite the inherent differences between tennis and art, they surprisingly have a lot in common. 
Tell us about your trajectory from tennis to art? How did you get started? Juro Kralik came to me with this idea he got from playing tennis on clay. He observed how the balls and shoe marks make imprints on the surface of the court, telling the story of the match. You brush them off after each game, kind of like Etch A Sketch. He thought it would be interesting to preserve this story. So, he came to my hometown in the Czech Republic and had me hit tennis balls onto square canvases padded with clay. We made these first pieces on the court where I first hit a tennis ball. 
How has the collaboration evolved? We eventually moved from clay to paint. Juro would coat the canvases in wet paint, and I would hit the balls on them, taking the paint off as I went. Later, we graduated to a new method where we dip the balls into the paint and I hit them onto a blank canvas. To date, we have made over 200 pieces, from ones that are 2-by-2 feet to ones that are 30-by-80 feet. We've also experimented with some other mediums, including glass. 
Tell us about the piece you chose for the art car collaboration with Warren Henry. Miami is all about color—with the green and the blue of the ocean and the vibrant hues all around. I thought the colors of this piece really embody the city. 
Have you always had a creative side? I like to think I'm an artist with a racket. I have a great sense of space and proportion, but I'm not someone who can see something and draw it. The boy who sat next to me in grade school could draw beautifully. I would try to copy what he did, but I just couldn't do it! 
How do tennis and art differ? How are they similar? Art is very subjective—you can create the most amazing piece, but have no one want to buy it. In tennis, even though you don't know if you're going to win or lose, you know exactly where you stand. There's no judgment; it's just about who's better on that day. Tennis is also easier because there is a definite finishing point of a match. In art, the hardest part is knowing when to stop. You always want to try to make a piece better. But in life, I've learned that oftentimes less is more. 
Tennis and art are similar in that you try your best at both, but you never really know how they're going to turn out. You strive for excellence, but even if you don't get there, it's OK as long as you enjoy the process. I love everything about tennis, both on the court and off the court. If I win, that is just a bonus. It is the same for art. You have to enjoy doing it—and if you make somebody else happy with the piece, then that's the cherry on the sundae. 
What advice would you give to someone looking to pursue a career in sports or art—or anything for that matter? Fear of failure is a big thing in our society. I guess I'm never afraid to fail. You just learn from your mistakes and try to do better the next time. Another piece of advice (though it's a little cliché) is to do what you love. You'll be better at it and you'll commit to it. As long as you do your best every day, you're going to be happy and you won't have any regrets. I say when in doubt, go for it! 
For more information, visit martinanavratilova.com.