A Miami Luxury Real Estate Star Develops the Nation's Tallest Waterfront Dual Tower Residences
For 20 years, Melo Group has played a major role in Downtown Miami's real estate development resurgence, and the momentum endures with Aria Reserve Miami, a monumental condominium project starting construction this winter.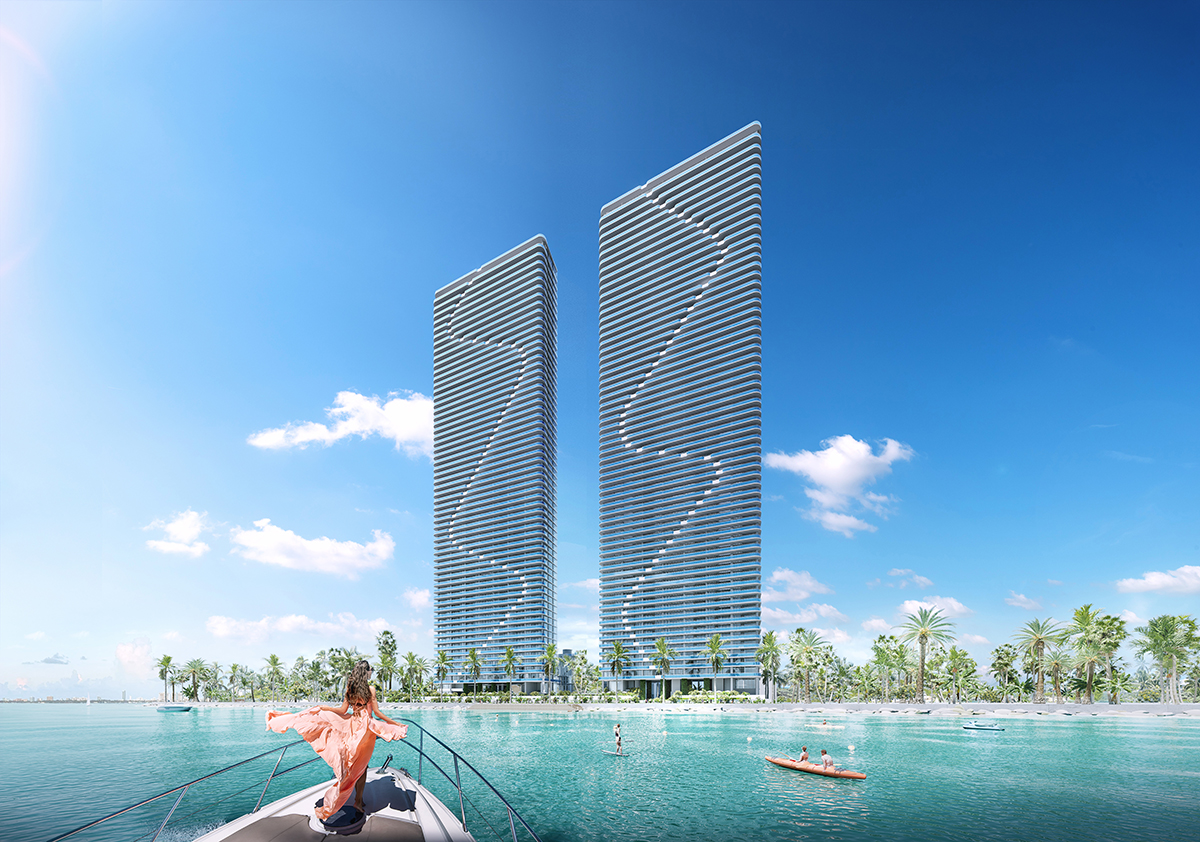 Melo Group is Miami's preeminent developer of luxury real estate communities, known for having a highly intelligent approach to development, design, construction and management of luxury properties. A driving force behind Downtown Miami's real estate resurgence since 2001, it boasts a portfolio of more than 6,000 total luxury condominiums and high-end rental apartments completed throughout the Greater Downtown Miami area, and more than 3,500 units in development. When it comes to creating communities, Melo Group specializes in strategically acquiring prime waterfront or transit-centric properties to create the ideal product for transformative change.
The family-owned-and-operated company is fueled by more than 50 years of international experience in the real estate industry and decades of development success in South Florida. Dr. Jose Luis Ferreira de Melo serves as president and managerial leader, providing a wealth of first-hand knowledge within the industry and the business itself, while his sons Carlos and Martin Melo are co-principals. This highly educated and experienced trio brought Melo Group to Miami at the dawn of the 21st century.
Currently, the Melo Group is moving forward with an extraordinary addition to the Edgewater neighborhood—Aria Reserve Miami, a pair of 62-story luxury condominiums that will be the tallest waterfront dual tower residences in the U.S. Construction of the development's first tower is slated to begin in early 2022 and will be completed in 2024.
Carlos and Martin give us insight into the firm's success and provide some vital details about Aria Reserve.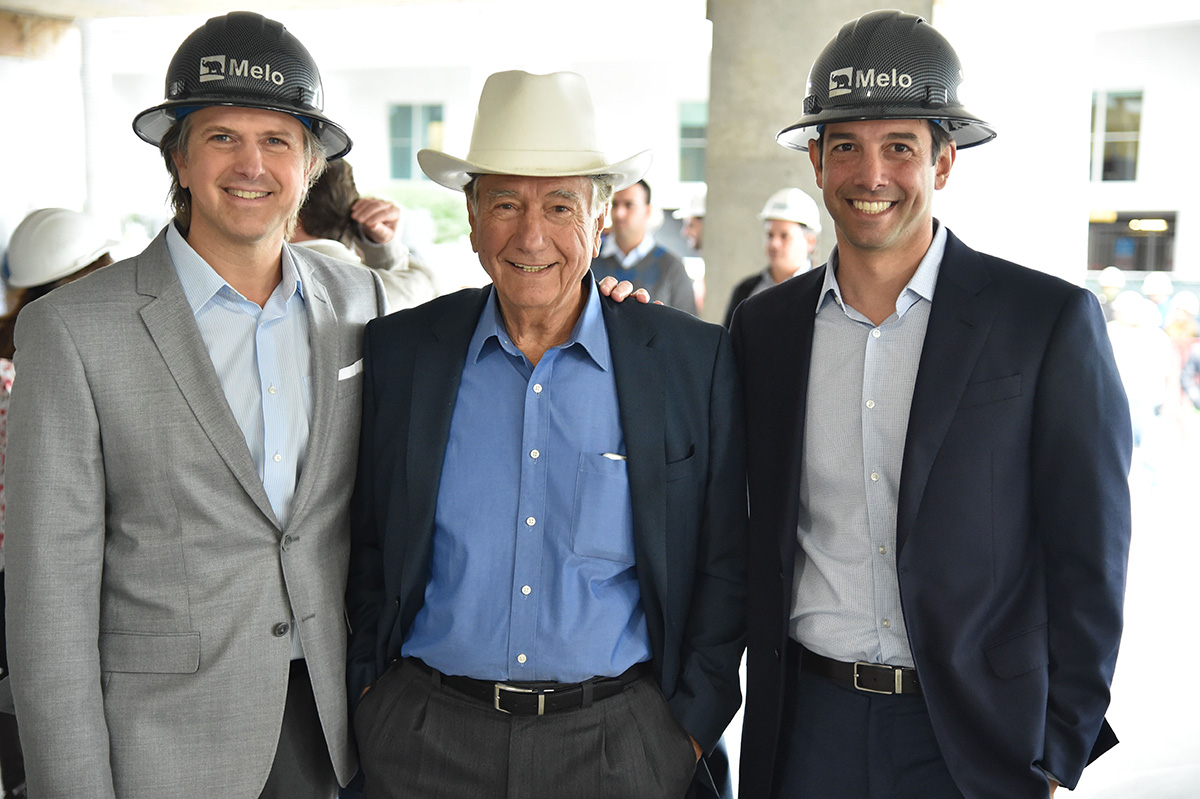 What's the secret to Melo Group's success?
Carlos Melo: Our philosophy has always been to build for what the market demands. Over the last 20 years, our firm has acquired land in and around Miami's Downtown waterfront—and as long-term owners and operators of real estate in the area, our investments have allowed us to develop the right product at the right time to meet demand for locals and residents around the world wanting to live in Miami.
How rare are Aria Reserve's offerings in Miami's real estate market?
Martin Melo: This type of waterfront, luxury condominium opportunity simply no longer exists in Miami.
How do your prices compare to other luxury properties on the market? 
Carlos: Non-penthouse residences at Aria Reserve will include one- to four-bedroom floor plans measuring between 1,100 and 2,600 square feet in size. Prices range from about $850,000 to just over $2 million, at an average of approximately $850 per square foot.
What's unique about Aria Reserve?
Martin: Every residence will include two private or semi-private elevators, a dedicated office/bonus room, at least 10-foot-high ceilings, and open flow-through layouts with up to 11-foot-deep expansive terraces boasting unparalleled sunset views to the west and bay and ocean views to the east.
Aria will boast over 2 acres of amenities, with standout features including a semi-Olympic-sized lap pool and whirlpool spa, childrens' splash pad, playground area, teen lounge and gaming center, theater, tennis courts, basketball courts, paddle courts, a golf putting green, and an indoor/outdoor wellness center with spa/steam/sauna facilities, massage rooms, a state-of-the-art gym, yoga lounge and meditation garden.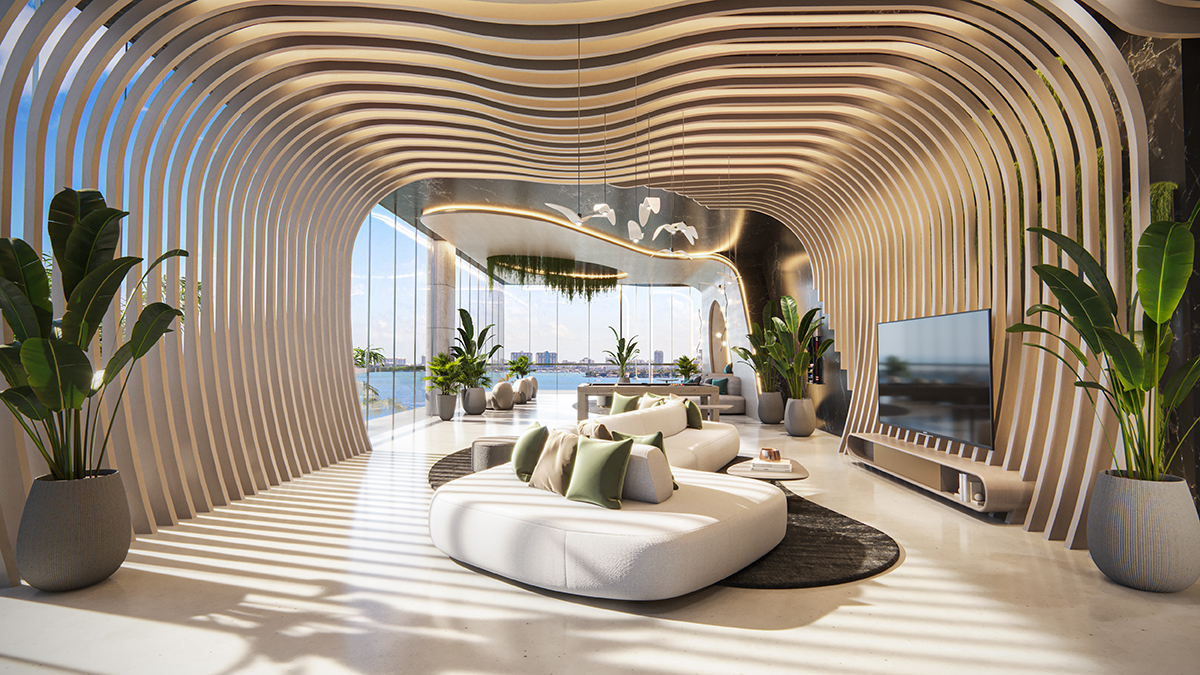 What aspects of Aria Reserve's penthouse collection are a draw for buyers?
Carlos: Aria Reserve's tri-level mansions include everything Miami's most discerning buyers are looking for: privacy, space, access to an abundance of outdoor amenities and, of course, some of the best waterfront views in Miami, featuring private rooftop decks with pools and summer kitchens. Yet, one of the major draws for our tri-level penthouses is our unique "garage vaults," which give residents access to their own private climate-controlled and secure three-car garage within the building's larger parking facility—a distinctive feature that has been especially popular among homeowners who are transitioning to condo living.
How is buyer demand with Aria Reserve and what is motivating their decision to buy?
Martin: Over the last few months, we've seen incredible demand for our larger residences, as buyers look to downsize from big houses and upgrade to amenity-rich and convenient luxury condo living. Aria Reserve is sure to appeal to local empty-nesters as well as out-of-market domestic and international residents looking to relocate to and live full-time in Miami.
With land in Miami starting to dwindle, what is next for the Melo Group?
Carlos: We have focused on buying land over the years. Once we believe the time is right, we will move on to develop those sites. For now, our focus is delivering Aria Reserve. Once we are ready to open, we will focus on other developments and what the market is demanding at the moment.
For more information about Aria Reserve, including preconstruction sales opportunities, please contact the sales team at 305.800.8888 or info@ariareserve.com, and visit the development's temporary sales gallery at 2480 Biscayne Blvd. in Miami. Learn more at ariareserve.com.
The Melo Group, 425 N.E. 22 St., Suite 301, Miami; 305.438.1001; themelogroup.com
This story comes from our Winter 2021-2022 issue. Read more here.